Welcome to DARE TO BLOOM, Shannon! Readers, we're part of Shannon Vannatter's blog tour this month: see below for the other sites and GIVEAWAY information.
An award winning central Arkansas author, Shannon is a stay-at-home mom and pastor's wife. She once climbed a mountain wearing gold wedge-heeled sandals which became known as her hiking boots.
Shannon has twelve published titles and is contracted for three more. Her books are available at christianbook.com, barnesandnoble.com, amazon.com, harlequin.com, and barbourbooks.com. Learn more about Shannon and her books at http://shannonvannatter.com and check out her real life romance blog at http://shannonvannatter.com/blog/ with weekly book giveaways.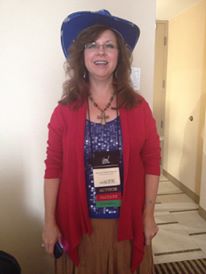 Please describe your latest novel's history, Shannon. 
Reuniting with the Cowboy started out with a working title of Rodeo Crossroads. It was supposed to be the final book in my rodeo series. But then the Heartsong Presents line closed leaving four books on my contract in limbo. But Harlequin decided to honor my contract through the Love Inspired line.
So now, Reuniting with the Cowboy ends the rodeo series in Aubrey, TX and kicks off a new cowboy series set in Bandera.
How did your main character evolve? 
Cody Warren was a side character in my last title, Rodeo Reunion. He's a bull rider and was in a bull wreck and the heroine of Rodeo Reunion went to see him in the hospital since they were friends. They were bemoaning their lack of love lives. And he told her he loved Al. . ., then the pain meds knocked him out. The heroine asked around until she found out Ally Curtis was his friend in high school. Ally was her vet, so they knew each other. She gave Ally the idea to start a pet visitation program for the rehab center Cody was in, to promote her animal shelter and so they'd run into each other. It worked and the heroine left them alone, but when she came back to check on them, Ally was gone. She decided to hang up her matchmaking hat and leave them alone.
Where did you get your ideas for the plot of this novel? 
I've long wanted to write Cody's story. He was the hero's brother in Rodeo Queen, four books ago. He was the class clown, cut up, and showed up again in the last book. Ally was also mentioned in Rodeo Queen as the heroine's best friend, so I knew she was the perfect heroine for him. I'm really glad it worked out so I could write their story.
I've always been an avid pet lover and considered being a vet. But the thought of having to put an animal to sleep stopped me. I got to vicariously live that life through Ally with her vet practice and stray shelter.
My husband's aunt and a man in our church had the same health issue. So when I needed Cody to be hiding a secret medical condition, I knew a lot about this one. My husband's aunt had surgery and is okay except for balance issues. The man in our church didn't know his condition until it should have been too late. He shouldn't have survived, so he's a walking miracle.
How did the concept of piling troubles on your heroine play into your writing decisions?
I needed Cody to be even closer than living next door, so I put her shelter in jeopardy for being overlimit with cats. That way Cody could volunteer at the shelter and help her come up with ideas to publicize it. And when her shelter gets broken into, Cody realizes someone has it out for her and becomes her protector.
Please tell us about the challenge of weaving backstory into your novel – did that occur naturally, or did you have to "wrangle" with it?
It was easy. I had already set up that Cody and Ally were friends back in high school in the previous book, but Cody had fallen for her. In this book I expanded it—when her dad died, Cody comforted her and ended up kissing her. Things turned awkward and he left for the rodeo. But for ten years, they'd both been trying to come to terms with that kiss.
Could you share some of your feelings with us as you worked through the closing of the Heartsong Presents, and how you see this experience in hindsight?
It's a long, eventful story. I'd been through it before, so that helped. My 1st four books, including the first Rodeo title were published by Heartsong Presents owned by Barbour. Just after I turned in book two of my rodeo series, I got the e-mail that Barbour was closing HP. They said my remaining two contracted books would probably eventually release as e-books only. My editor no longer had a job, so in effect my champion who loved my writing was gone. I truly thought I'd never be published again. I cried. And wailed. And moaned. To my husband, my critique partner, and anyone who would listen.
Three months later, I went to the American Christian Fiction Writers Conference and the editor in charge of wrapping up Heartsong told me to write book three, that someone was buying the line. I went from despair to giddy in two seconds flat. I wrote the book and just about the time I finished it, I learned Harlequin had bought the line. After riding the publishing roller coaster alone for so long, I decided it was time for an agent. I'd already had two which didn't work out. My third agent is the right fit for me and has been a blessing.
By this time, Harlequin had convinced a few retail stores to carry Heartsong Presents for six months. HP had always been a direct to consumer book club, not in stores. Book three of my rodeo series released during that six months and sales soared. I was all excited again and my agent sold three more rodeo books to HP to continue my series. But then Walmart decided to cut the size of their fiction section and they didn't have room for HP after the six month period. Sales plummeted and I felt like the line was dying.
I told my agent I wanted to write for Love Inspired. My first three books were set in Arkansas, my home state. I decided I wanted to do some more AR books. We sent a proposal for a three book series. They were rejected. She told me that the LI editor who oversaw the HP line really liked my rodeo books and convinced me to submit another series to HP.
By this time, I realized I had three dangling characters from the rodeo series, so I wrote a proposal for three more books in the series. HP wanted it, plus three more books and said I could figure out the last three titles when we got there. I decided Harlequin must have big plans to revive HP. I wrote the first two books, started the third, and sent a proposal for the final three—the Arkansas books that LI had rejected. My editor was always good about getting right back to me. But I heard nothing. Until I got an e-mail that Harlequin was ending the Heartsong Presents line. They really tried, but the line had been struggling for so long, not even Harlequin could revive it.
This time, I didn't cry. I knew God had this and something would work out. My agent talked to the editor at LI, who'd overseen the HP line, about my rodeo books and how the final one, plus three more books were left on my contract. The editor said she'd love to move the remaining four titles to LI, but she wanted cowboy books, and there was no guarantee. But for the moment, they still considered me contracted. All I had to do was submit four stellar cowboy proposals that would fit the LI line. Talk about pressure. I had the final rodeo title all ready. But the other three were Arkansas and decidedly not cowboy. I decided to take the plots and characters, move them to Texas and cowboy them up. It took about a year of going back and forth with Harlequin, but I finally got the news that my remaining four books would release through LI.
I tell people I made it to LI by slipping through the back door that began when Harlequin bought HP.
What has your writing career taught you that you might not have learned otherwise, and what keeps you at this business? 
I've learned not to cry, or wail, or moan, or complain. God's got this. And if he wants me to keep being published, he'll take care of it. I keep trooping along because even with all the ups and downs and roller coaster of emotions, I still love to write. I love coming up with characters and their stories. I love making them do what I want them to—my crit partner says it's like playing paper dolls on paper. I was a Barbie girl, so I play Barbie's on paper. And most of all, I love weaving spiritual truths into their stories.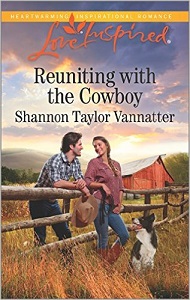 The Cowboy Next Door 
A charming cowboy moving in next door shouldn't be bad news. But veterinarian Ally Curtis knows Cody Warren—she'd never forget the boy who left her when she needed him most. Cody is doing everything he can to show his beautiful neighbor he's not the wild bull rider he once was, from helping her find homes for her beloved strays, to protecting her when her business is threatened. But Cody has a secret that keeps him from fully reaching out. Yet as they continue to work together to promote her shelter, he can't keep himself from hoping that Ally might have a home for him…in her heart.
Get your copy now:
Amazon           Christianbook         BarnesandNoble
Connect with Shannon: Shannon's Facebook, Shannon's Goodreads, Shannon's Pinterest, Shannon's Twitter, and Shannon's Amazon Author Page
NOW FOR SHANNON'S GIVEAWAY:  Comment here to enter the drawing for a copy of Reuniting with the Cowboy. Ten copies will be split among names drawn during the blog tour from Sept 1 – 27. One winner will receive a Noah's Ark themed memory board personally crafted by the author. This fabric is special since it was in the Vannatter nursery 14 years ago and goes along with the float the characters in the book build for a parade. Great for a shower gift or displaying kids or grandkids. Winners will be revealed on the author's blog on Oct 8th.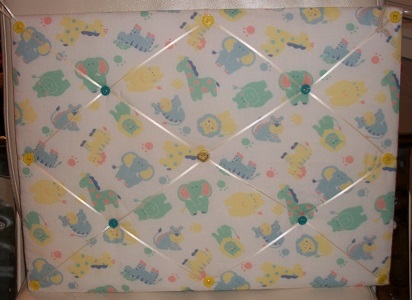 Follow the tour:
Sept 1: http://rosemccauley.com/
Sept 3 & 7: https://writingpromptsthoughtsideas.wordpress.com/
Sept 5: http://jenniferhallmark.com/blog/
Sept 5 –http://www.gailkittleson.com/blog/
Sept 12 & 15 – http://www.shannonvannatter.com/blog
Sept 13: https://jenpheobus.com/
Sept 16: http://www.jamesrcallan.com/blog/
Sept 21: http://www.faithfriendschocolate.com/
Sept 27th: http://brendaandersonbooks.com/blog/