Andrew by Jennifer Beckstrand
Welcome, Jennifer – any plot revolving around self-recrimination and forgiveness strikes my fancy–it's so difficult NOT to cling to our errors, no matter how distant. Of course, this creates barriers for us, but . . .
At the end of her post, Jennifer has an offer for each of you. Enjoy!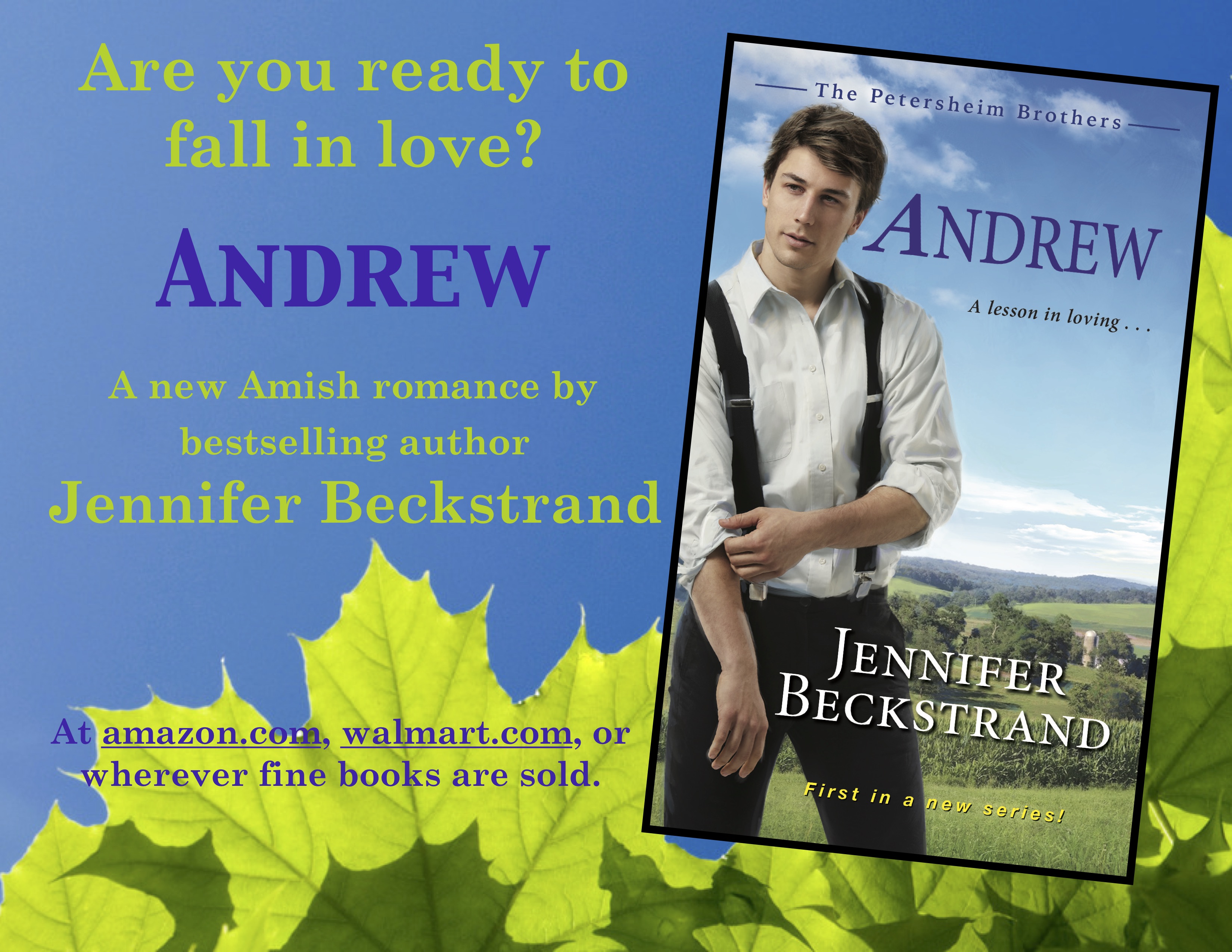 Things at the Petersheim house are getting too crowded for eight-year-old twins Alfie and Benji. As if things weren't bad enough with three older brothers hogging all the bacon at breakfast and using more than their fair share of toilet paper, Mammi and Dawdi Petersheim have to move in because of Dawdi's stroke. If Alfie and Benji have any hope of getting their old bedroom back, they have to get rid of their annoying brothers, and the only way to convince their brothers to move out is to make each of them fall in love. What could be so hard about that?
Alfie and Benji will do just about anything to get Andrew married off. And I mean, just about anything. You're going to love the Petersheim brothers!
Andrew Petersheimis a godly, hard-working man, and he knows any girl would be blessed to marry him. He can afford to be picky, and he hasn't yet met a girl good enough to capture his heart. Mary Coblenz certainly isn't that girl. She left the community over a year ago and now she's back, unmarried and expecting a baby. It doesn't matter how pretty she is or how vigorously she challenges his notions of forgiveness and Christian charity, Andrew refuses to fall in love with her.
But maybe Andrew is just a little too sure of himself…
In Andrew, the first book in my new series, The Petersheim Brothers, I wanted to explore repentance and forgiveness, particularly the concepts of forgiving ourselves and forgiving others. When someone has offended us, do we hold so tightly to their past sins that we deny them the possibility of a brighter future? Do we ever have trouble forgiving ourselves and moving forward with faith?
J. Holland said, "There is something in us, at least in too many of us, that particularly fails to forgive and forget earlier mistakes in life—either mistakes we ourselves have made or the mistakes of others. That is not good. It is not Christian. To be tied to earlier mistakes—our own or other people's—is the worst kind of wallowing in the past from which we are called to cease and desist…It is not right to go back and open up some ancient wound that the Son of God Himself died trying to heal.
"Let people repent. Let people grow. Believe that people can change and improve…If something is buried in the past, leave it buried. Don't keep going back with your little sand pail and beach shovel to dig it up, wave it around, and then throw it at someone, saying, 'Hey! Do you remember this?' Splat!"
In Andrew, Mary Coblenz comes back to her Amish community hoping to make a life for herself, even though she's made some serious mistakes. Andrew learns some valuable lessons in forgiveness, but will Mary's Amish neighbors be as accepting?
"If you love Amish fiction, romance, and humor, you will LOVE Jennifer Beckstrand. Grab a copy of ANDREW today and see how well Andrew learns his lesson in loving."Lighthouse-Academy.blogspot.com
"Each part of the story was wonderfully crafted to make this book an awesome read. I love Jennifer Beckstrand's books. She has a way with words that grabs you from the beginning of the story and keeps your attention. If you haven't read any of her books, Andrew is a good one to start with!"SplashesofJoy.wordpress.com
Don't miss Abraham, book 2 in the Petersheim Brothers series, coming November 26!
If you go to my website and sign up for my readers club, you will receive a free ebook copy of Kate's Song, my first Amish romance. Find out more at jenniferbeckstrand.com