Well, it's the third snowstorm since March 23. Just sayin', and returning  from my indoor walk this morning, I still marveled at how light and huge the flakes are. A fall so thick we can barely see across the street.
And the birds are wild at the feeder…free food, why not?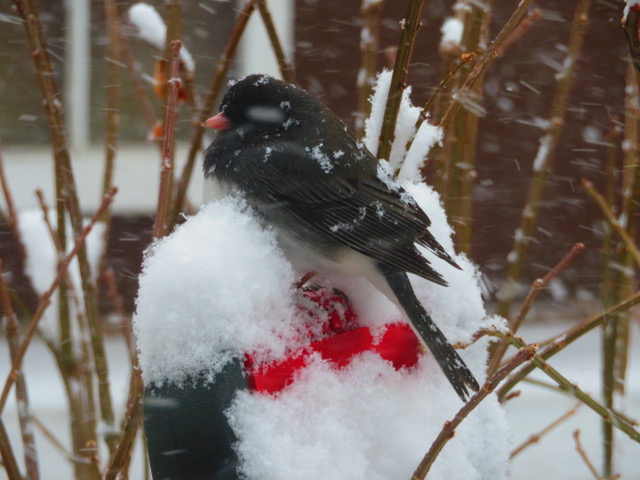 While it lasts, they're seizing the moment. Might as well embrace the unexpected or undesirable experiences that come our way. So they thought they'd be sitting on their eggs by now…not so much.
At the risk of redundancy, I have to say that during World War II, if you were deployed or doing clandestine work as a secret agent, this attitude would get you a long way.
NOTHING was expected–if you could predict an occurrence, something probably had gone wrong. Murphy's law multiplied. 
Starting next week, I plan to make posts from actual locations where Lancasters took off with their precious cargo of agents like Kate Isaacs. Yes, and from the underground tunnels where Winston Churchill and military leaders made decisions that changed the world. And from Baker Street…and…
In the meantime, enjoy some more shots from our back room during this heavy snowstorm. An undesirable storm…but embraced.