Welcome to Elaine Stock today as she tells us about her latest release, When Love Blossoms. She's also offering 1 Kindle copy of this novel to a commenter, good only in the United States.
Many years ago, a college student peered up from her philosophy textbook and off toward her right. She spotted him immediately. In a sea of students who might have been clones of each other because of the similarities of dress, hairstyles, and expression, this guy stood out in a most positive way. The first thing she noted that marked him as singular and possibly refreshingly special was his clothing choice of a vest. Hmm. Interesting. And what kind of glasses was he wearing? Rimless? Different. Not nerdy, but a signature that quietly stated he preferred a distinct preference and didn't have to conceal it just to look and act like everyone else.
Wow—a fellow individual! Did he have a charming personality to accompany the way he carried himself?
Thirty days ticked by, happily filled with talk between this young woman and man. They enjoyed long walks, dinner out…just time spent with each other.
One night, after having a rough day—what a Friday the 13thshe was having!—she went to his off-campus apartment and surprised him with a dinner-out invitation. For dessert, he took her to buy a diamond engagement ring. Eight months later, they wed on a beautiful, mild cloudless July 4th.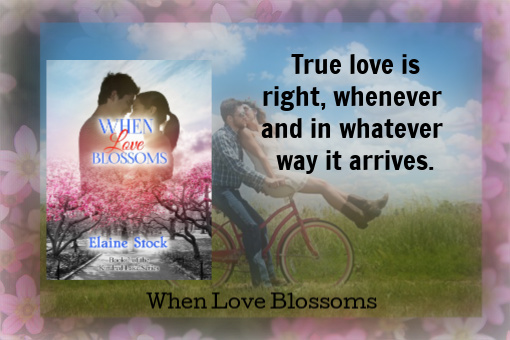 To a few readers, this may sound like a whirlwind tale of lovers. Maybe you're thinking that it just doesn't happen in real life and therefore the concept isn't plausible. Well, dear reader, love can and does happen pretty fast at times. That young man and woman in the above scenario is my husband and myself. And, as July 4thapproaches, we're looking forward to another blessed wedding anniversary and year to come together.
In my newly released novel, When Love Blossoms, Book 2 of the Kindred Lake Romance Series (though a standalone read), Kierra and Ryan don't plan on meeting and for that matter, aren't looking for a romantic partner. The not-too-long-ago breakup with her fiancé still has Kierra's heart aching. Meanwhile, Ryan is just beginning to get onto his feet after witnessing a sad tragedy, yet his teen daughter's needs and demands rate number one in his concerns.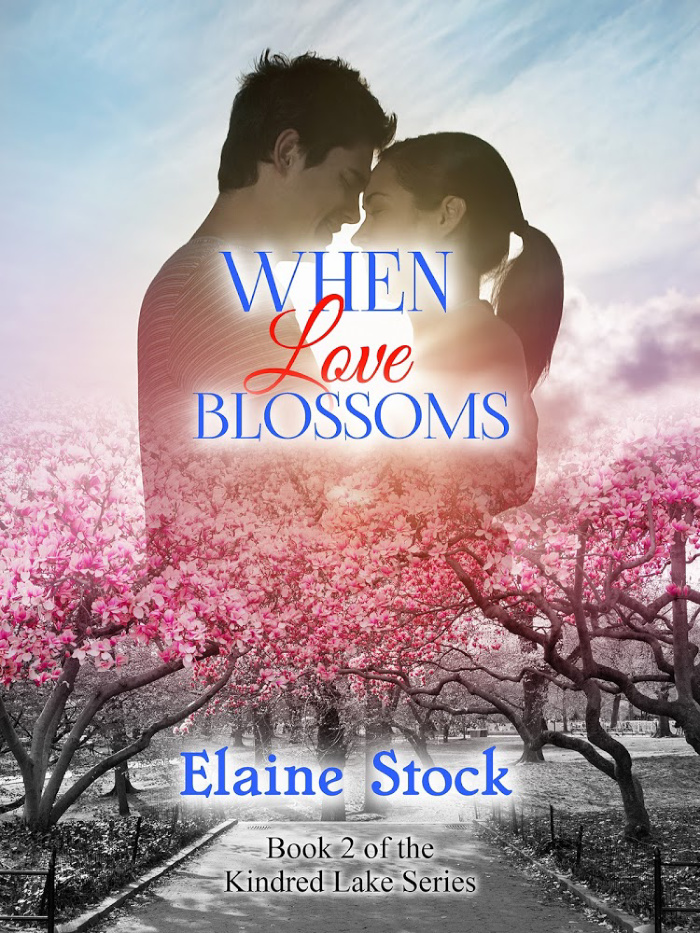 But.
Ah, love. True love happens when it does and where it occurs. True love is always right, never misplaced. True love arrives at the right time, never late, nor early.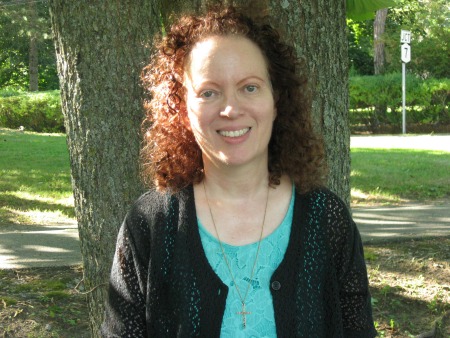 I hope you will visit with Kierra and Ryan and that their story showers you with hope and joy. May true love bless each one of you.
Blurb for When Love Blossoms:
The journeys in life take you to unexpected destinations. The love of a good person brings you home.
Kierra Madden, proprietor of the Kindred Lake Inn, struggles for stability after her engagement ends, family strife continues, and business slows. When her mom, sister and teenage niece move in with her, life becomes a lot more complicated. There's certainly spare room…until one guest arrives…on his bicycle. Ryan Delaney is fit and trim…quite the eye candy.
Ryan, a TV news anchor on a leave of absence following a horrific incident, enjoys the peace long-distance biking offers. Only in town to mend his strained relationship with his teen daughter, he never expects to fall for Kierra fast and hard. Despite her policy of separating business and pleasure, mutual attraction pulls them closer until unforeseen consequences threaten to wedge between them.
Surrounded by springtime beauty, will the temptation of desire bloom into a more powerful and lasting love?
Available on Amazon in print, Kindle, and Kindle Unlimited: https://amzn.to/2PNZZi3
Bio and links:
Elaine Stock is an award-winning author of Women's & Inspirational Fiction to uplift with hope of better tomorrows.Her novel, Her Good Girl, received the Outstanding Christian/Religious Fiction in the 2018 IAN Book of the Year Awards, 2018 Readers' Favorite Silver Medal in Christian Fiction and the 2018 American Fiction Awards in the Christian Inspirational category.

Elaine is a member of Women's Fiction Writers Association, American Christian Fiction Writers, and the Romance Writers of America. Born in Brooklyn, NY, Elaine has now been living in upstate, rural New York with her husband for more years than her stint as a NYC gal. She enjoys long walks down country roads, visiting New England towns, and of course, a good book.

Visit with Elaine at
https://www.elainestock.com
https://twitter.com/ElaineStock
https://www.facebook.com/AuthorElaine….
Get a free book at: https://elainestock.com/free-gift-for-you
Amazon: http://amzn.to/1JYAwNy