It's been co-o-ol-d here, chilly enough to wear several layers, a scarf and gloves. The other day, while walking out of a brisk wind in the fellowship hall of a nearby church, this hand-crafted sign caught my attention: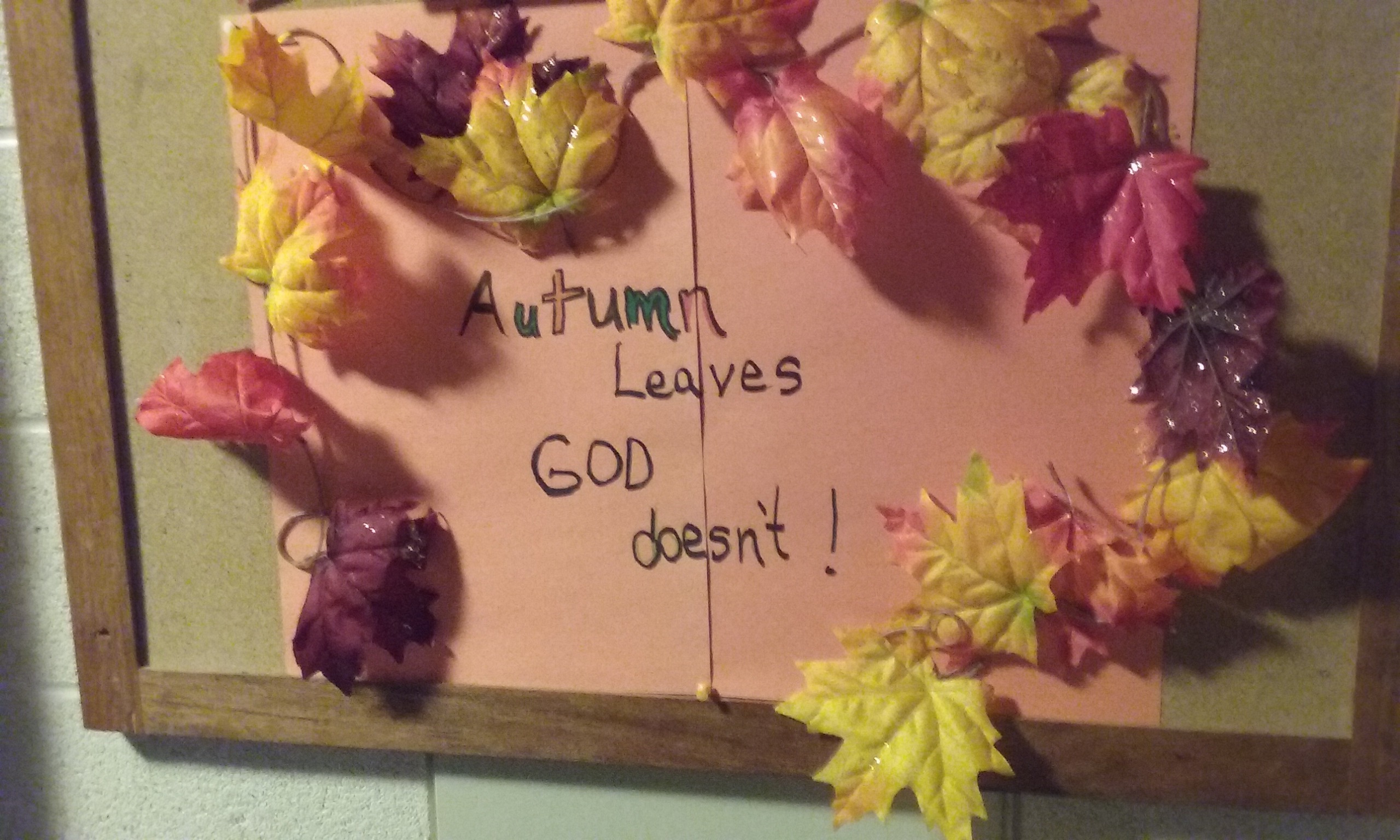 What a great play on words, eh? 
The sentiment also describes the mental state of the hero in the manuscript I'm working on right now. It's the middle of World War II – November 1944, and things have been VERY bad. How could they get worse, with V-2 vengeance weapons killing thousands in London? 
Well…my hero is a thinker, and he can't imagine worse any more. In fact, he's become almost numb–so many mass-casualty events, he can scarcely keep up with them. In his policeman's role, he lives way too close to them. 
Can you imagine how doubts must have crept into these people's minds as the war slogged on? Always a hope of victory by Christmas, but one Christmas after another had passed, and still, soldiers were sacrificing their lives for the cause. When would this horror end? 
Maybe that's why this little sign struck home with me. In all seasons of history, autumn leaves have fallen, and most likely, this will continue. Summer, autumn, winter, spring. And in every century new wars have sprung up, nation against nation. The human family never seems to learn. I don't know how people survive without the constant of a worldview including an unchanging Creator. 
Outside our back door, a few tomatoes still cling to their vines, while most have been picked and frozen or made into sauces or soup. Our daughter's kitchen smelled SO wonderful today, with two vats of applesauce and apple butter bubbling away…it's that time of year. 
Whatever the weather in your area (and in your life,) I hope you find time to enjoy some beauty in each day. That's what my hero is learning to do.