Welcome to Lucinda Secrest McDowell, author of "Dwelling Places."
She writes about the marvels of the gift of grace. 
Best gift I ever received.
Grace. In fact, it quite literally changed my life.
Sadly I had been a Christ follower for many years before I actually opened this precious gift I'd been carrying around. I never understood that grace was God's gift we don't deserve and can never earn.
So I kept trying to please God and get everything 'just right' so that He might love me more and consider me worthy. Striving was my dwelling place and despair was my landing place every time I failed at perfection. Until one day, in His mercy, God stooped down (the Hebrew word for grace means "to stoop") and lifted me up.
He reminded me that I am already loved, already accepted, already chosen for kingdom work — not because of anything I have done — but simply because I am His own. And that, dear friend, is the Gift of Grace.
Because we live in a world of reward and punishment, it is difficult to grasp the idea of receiving something we don't deserve. And yet that's the very nature of grace as Paul explains, "For it is by grace you have been saved, through faith—and this is not from yourselves, it is the gift of God— not by works, so that no one can boast."(Ephesians 2:8-9)
Perhaps this acronym says it best – God's Riches At Christ's Expense. Jesus willingly gave up His life on the cross and rose from the grave so that we would be set free from sin, death and the enemy of our souls.
Frederich Buechner explains "The grace of God means something like: Here is your life. You might never have been, but you are because the party wouldn't have been complete without you. Here is the world. Beautiful and terrible things will happen. Don't be afraid. I am with you. Nothing can ever separate us. It's for you I created the universe. I love you. There's only one catch. Like any other gift, the gift of grace can be yours only if you will reach out and take it. Maybe being able to reach out and take it is a gift too."
I used to dwell in a place of judgment, performance, rules, hurry and approval. Nothing was enough. I could never rest; there was always, always more to do. Grace reminds me that my love and the outpouring of my life for the kingdom flow from knowing with confidence that, though I am not worthy, as God's child I am totally received and loved.
Out of that I pour myself at Jesus' feet every morning, asking "How can I spread Your grace to others today?"
Do you need more grace in your life? The great news is it is already here for you if you are a child of the King. Just like when I'm home in the South and order a big breakfast at the diner. When I choose bacon and eggs on the menu, the plate always arrives with grits as well. "Honey, you don't have to special order grits, down here they just come with!" the waitress cheerfully explains.
Grace 'comes with' your commitment to Christ. So, open the gift and dwell in the love. Then, be sure and pass it along to others.
©2016 Excerpted from "Dwelling Places" by Lucinda Secrest McDowell (Abingdon Press, 2016)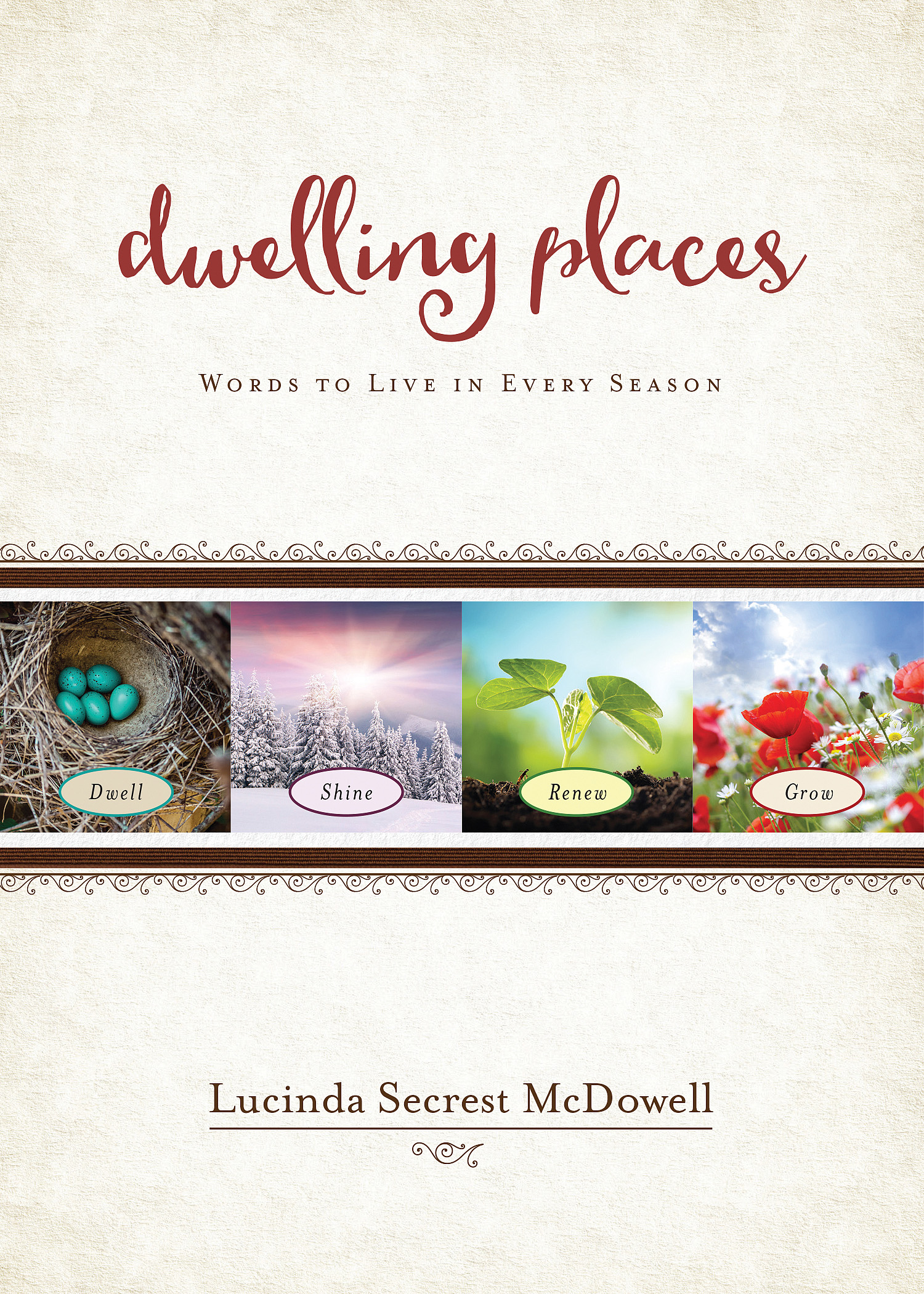 Lucinda Secrest McDowell is passionate about embracing life — both through deep soul care from drawing closer to God, as well as living courageously in order to touch a needy world. A storyteller who engages both heart and mind, she offers "Encouraging Words" to all on the journey. A graduate of Gordon-Conwell Theological Seminary and Furman University, Cindy is the author of twelve books, including Dwelling Places, Live These Words, Refresh!, Amazed by Grace, Quilts from Heaven and Role of a Lifetime. Whether co-directing the "New England Christian Writers Retreat," mentoring young moms, or leading a restorative day of prayer, she is energized by investing in people of all ages. Cindy's favorites include tea parties, good books, laughing friends, ancient prayers, country music, cozy quilts, musical theatre, and especially her family scattered around the world doing amazing things. She writes from "Sunnyside" cottage in New England and blogs weekly at EncouragingWords.net
Please leave a comment for Cindy to qualify for her giveaway drawing of one signed copy of Dwelling Places.