I'm glad to welcome Cynthia Roemer as she celebrates the publication of her first historical novel. Cynthia, please tell us about your experience researching this story.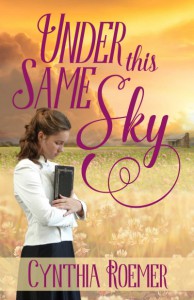 I'm as old-fashioned as they come, so historical novels are a perfect fit for me—both reading and writing. As a reader, I love the nostalgia and all the life lessons one can learn from those who've gone before us. But as a writer, I enjoy delving into the past and researching the time period, more specifically the nineteenth century. When writing a historical/historical romance novel, research is a must to ensure the book is true to the time period.
My debut novel, Under This Same Sky, which released in late April, took place in 1854. I've been thrilled at some of the comments thus far by reviewers stating the novel "makes you feel exactly like you lived back in those days". How gratifying such comments are to an author who's spent countless hours trying to be certain every detail is true and accurate.
The well-known facts are easy to achieve. Under This Same Sky took place on the Illinois prairie in the mid-1800s. Most everyone knows settlers lived in log cabins, but do they know how the cabins were erected and what materials were used to chink the log walls? It's widely known that covered wagons were often used when traveling across the prairie, but not many will know that a bucket of tallow was kept handy so that when the wheels began to squeak and squeal they had to be greased much like a car engine needs oil to run smoothly.
There were so many questions I had to ask as I wrote the novel: What type of clothing was worn in 1854? What farming equipment was available? Had screen doors been invented? How would my characters cross the Mississippi? What would the city of St. Louis have looked like back then? What type of lighting was used? It's these fine details that make a novel either believable or, if left out, leave readers with a less than satisfied reaction.
Though research is a vital part of writing a historical novel, that's not to say a writer can't have a little fun creating fictional people and places along with the true ones. Under This Same Sky is a blend of fictional and real. My main character, Becky Hollister grows up a few miles outside of the fictional town of Miller Creek, IL, but later travels to the very real town of St. Louis, Missouri. Only one of my characters is based on a real person. The others are products of my imagination.
What's wonderful about historical fiction is that we can have the best of both worlds—the reality of the past blended with the creativity of fiction. A match that—in this author's opinion, can't be beat!
~ She thought she'd lost everything ~ Instead she found what she needed most. ~
Illinois ~ 1854
Becky Hollister wants nothing more than to live out her days on the prairie, building a life for herself alongside her future husband. But when a tornado rips through her parents' farm, killing her mother and sister, she must leave the only home she's ever known and the man she's begun to love to accompany her injured father to St. Louis.
Catapulted into a world of unknowns, Becky finds solace in corresponding with Matthew Brody, the handsome pastor back home. But when word comes that he is all but engaged to someone else, she must call upon her faith to decipher her future.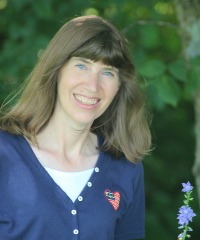 Cynthia Roemer is an award-winning inspirational writer with a heart for scattering seeds of hope into the lives of readers. Raised in the cornfields of rural Illinois, Cynthia enjoys spinning tales set in the backdrop of the 1800s prairie. She writes from her family farm in central Illinois where she resides with her husband and their two college-aged sons.
Contact Info:
Website: http://cynthiaroemer.com/
Facebook: https://www.facebook.com/AuthorCynthiaRoemer/
Twitter: https://twitter.com@cynthiaroemer
Purchase Info:
Available on Amazon: https://www.amazon.com/Under-This-Same-Cynthia-Roemer/dp/194509415X/ref=sr_1_1?ie=UTF8&qid=1494271640&sr=8-1&keywords=under+this+same+sky