What a creative way to co-write a story, Kathy–enjoy this, everyone. AND, Kathy, who is also founder of Mantle Rock Publishing, is giving away either a print or ebook of Smoky Mountain Brides. Just leave a comment to qualify. 
In 2012 I could borrow Martin Luther King's words, "I have a dream." I'm afraid my dream was not the same as his. I had a dream to publish a book, and I did. Since I told a class at a conference that no one would tell me I couldn't do anything, I was not going to be defeated in publishing my book. That was all I wanted to do, publish my books. That changed rather quickly. Before long I was publishing for other authors.
Back in 2012 I saw that new authors were having problems in getting their book published. The larger publishing companies were cutting back on manuscripts, and most authors didn't want to self-publish. That's where we stepped in to offer them something that was from a small publisher. Mantle Rock Publishing LLC publishes from twelve to fifteen books a year. Our goal for 2018 is for twenty books. We've opened a new line of Fantasy/Speculative books, and one Fantasy will go out in February.
The Fantasy line is in addition to our Contemporary Romance, Historical Romance, Cozy Mysteries, and Romantic Suspense. We will have our plate full. We hope to be able to publish all of the books within six months of a signed contract.
My real dream had always been about writing. When my kids were small I'd tell them stories about growing up in a cave with a dinosaur as my pet. Our oldest went to school and told her teacher the story. The teacher promptly told my child that it was a story. She emphatically told her that her mother didn't lie.
I love putting words on paper and have since elementary school. I love developing a story. That's how Smoky Mountain Brides came about. I wondered if two girls who were best friends since childhood could plan a wedding at Christmas on the same weekend.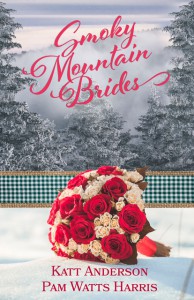 Pam Watts Harris agreed to collaborate with me and the two stories of Kayla and Becki came to life. Two girls who lived in different parts of the state became engaged at the same time and each wanted the other to be their bride's maid/matron of honor. They had different lifestyles, different thoughts of their wedding, but basically the same values. This is how we did it.
Kayla was Pam's main character. Pam wrote her book until we got to the wedding. Becki was my main character, and I did the same as Pam. We swapped manuscripts toward the end, made sure we had everything right. We each wrote our wedding scene, and then we put them together. It wasn't that difficult. It was a lot of fun.
Our website is mantlerockpublishingllc.com and you can click on the blog for a pop-up to sign up for my newsletter. We also do a podcast each Monday. Our books can be bought on Amazon.com. You can purchase Smoky Mountain Brides at https://www.amazon.com/Smoky-Mountain-Brides-Katt-Anderson-ebook/dp/B075QQLKW6/ref=sr_1_1?s=books&ie=UTF8&qid=1508946988&sr=1-1&keywords=Smoky+Mountain+Brides
Thanks Gail for having me on your blog.