June fifth, another cloudy day in Iowa. Our state is failing us . . . you can see it in people's eyes at the grocery store. Some farmers haven't even had the chance to get their crops planted, when perky rows of corn and soybeans ought to be lining the fields.
Everyone's grateful for no ravaging tornadoes, yet the gloom that we expected to leave in April . . . then in May, still hangs on. Of course, we keep planting flowers around the yard.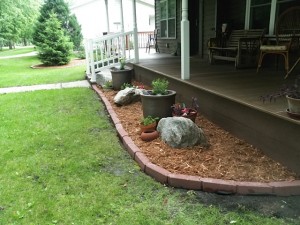 But this parade of weepy days gets to folks after a while. This morning, it got to me as I considered one of my plantings.
This is supposed to be a daisy. It IS a daisy . . . you can see the little greyish circles? Well, those are daisies poised to bloom. The trouble is, they've been poised to bloom for over a week. They just need a little sunshine. (Heaven knows, they've had plenty of rain!)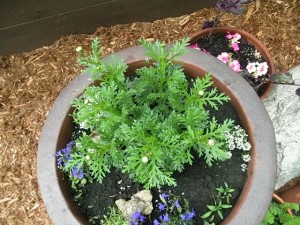 So I bumbled around this morning, trying not to let discouragement  seep into my spirit, but when you've been poised for something for a long, long time, it's tough not to feel just a little down in the dumps.
See, there's another pot w/a daisy in glorious full bloom–has been for over a week. The two plants, purchased the same day, are supposed to be matching drops of yellow in our front yard. I'm not exactly comparing them, but . . .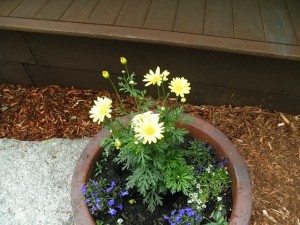 Anyway, all this reminded me of how it is when we're poised for publication. Over the past few years, I've met so many in that position, poised, ready for "the call," and just as many on the other side.
Whatever their stories, it's encouraging to hear them. They cheer us on, tell us not to give up, remind us to keep on keepin' on.
If flowers could talk, I wonder what my yellow daisies are saying to the poised ones just down the way this morning?
And you? Any thoughts to share on your journey into full bloom?