Now, there's a title! Calling carries several connotations, and Ella's cover photograph entices me, too. As the 2014 winner of the Jerry B. Jenkins Operation First Novel award, The Calling of Ella McFarland by Linda Brooks Davis, debuted on December 1, 2015.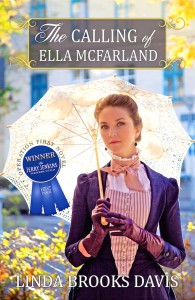 Linda set this romantic historical set in 1905 Indian Territory, when women were silenced in public and often stifled at home, when illiteracy ran rampant and women could not participate in their governance. As  compulsory education, woman's suffrage, and temperance debates rage, Ella Jane McFarland pursues her dream: a teaching position at prestigious Worthington School for Girls.
But scandal clouds her family name and may limit her to grueling labor on her family's Indian Territory farm. Her fate lies in the hands of the male Worthington board. Will they overlook the illegitimate son recently borne by her sister
Viola? Might handsome Mr. Evans help her reach her dream?
As hope of Oklahoma statehood rises and the citizens anticipate a new state constitution, Ella comes to the rescue of a young, abused sharecropper's daughter. Forced to make decisions about her faith, family, and aspirations, her calling takes shape in ways she never imagined.
With a new love budding in her heart, can Ella find God's will amid the tumultuous storm that surrounds her?
This family-and-faith story explores one woman's devotion to a serendipitous calling, the transforming effect of unlikely friendship, and the healing power of love.
 LInda, I'm hooked! Please tell us why you wrote this book. 
My Indian Territory grandmother and Oklahoma mother lived lives rife with hardship, trial, and grief. Rather than weakening them, such experiences empowered them and strengthened their faith.
My grandmother Ella Jane—Mama to me—had a 3rd grade education. She never drove a car, but could handle a team of mules just fine. She never shopped for the latest fashion, but sewed up a dress in a day. She never considered the benefits of tile over wood laminate, but made a home in a corner of a barn. She swept the dirt floor. She never worked outside her home, except in a cotton patch, picking 100 pounds a day. Mama buried 2 husbands and 5 daughters but never lost her faith.
My mother progressed only to 9th grade, and accepted nothing less than a college education for her children. Nor would she depend on a man to do something she could do herself. Mother buried a son, tended an ailing husband for 10 grueling years, and battled the weather and creditors to save the family farm, yet never blamed God.
I consider my ancestors' stories treasures of which I am a steward. Hence, The Calling of Ella McFarland. While not the actual life story of any family member, this debut novel is saturated in reality. The writing represents my love and high esteem for two strong matriarchs, and reflects my longing for my granddaughter–also named Ella Jane–to believe in herself as a daughter of the King of Heaven and to cast herself upon the mercies of God to hold her up, make her strong, and give her His purpose.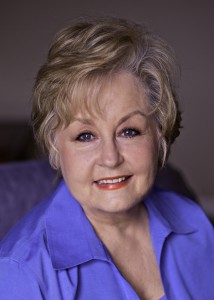 Thanks so much, Linda–you've piqued my interest. Please make a note in your comment that you're willing to write a review, and Linda will provide you an e-book.
Purchase links: http://bit.ly/1NqmYtF
Email: linda@lindabrooksdavis.com
Website: http://lindabrooksdavis.com
Facebook: http://on.fb.me/1QZSvoT
Twitter: http://bit.ly/1LsI19s
Pinterest: http://bit.ly/1Nj1oZX