Pat Jeanne Davis is back with us this week, celebrating a sale on her WWII novel–enjoy!
The verse in Romans 8:28 is a favorite one of mine: "And we know that all things work together for good to them that love God, to them who are the called according to His purpose . . . ."
Abby, the heroine in When Valleys Bloom Again, frequently reminds herself of this promise after she is uprooted from London and forced to return to a country far from her family and the life to which she'd become accustomed. Meanwhile back in England, her parents are under continuous aerial attack from the enemy, and on the battlefields of Europe, her brother and fiance face death daily.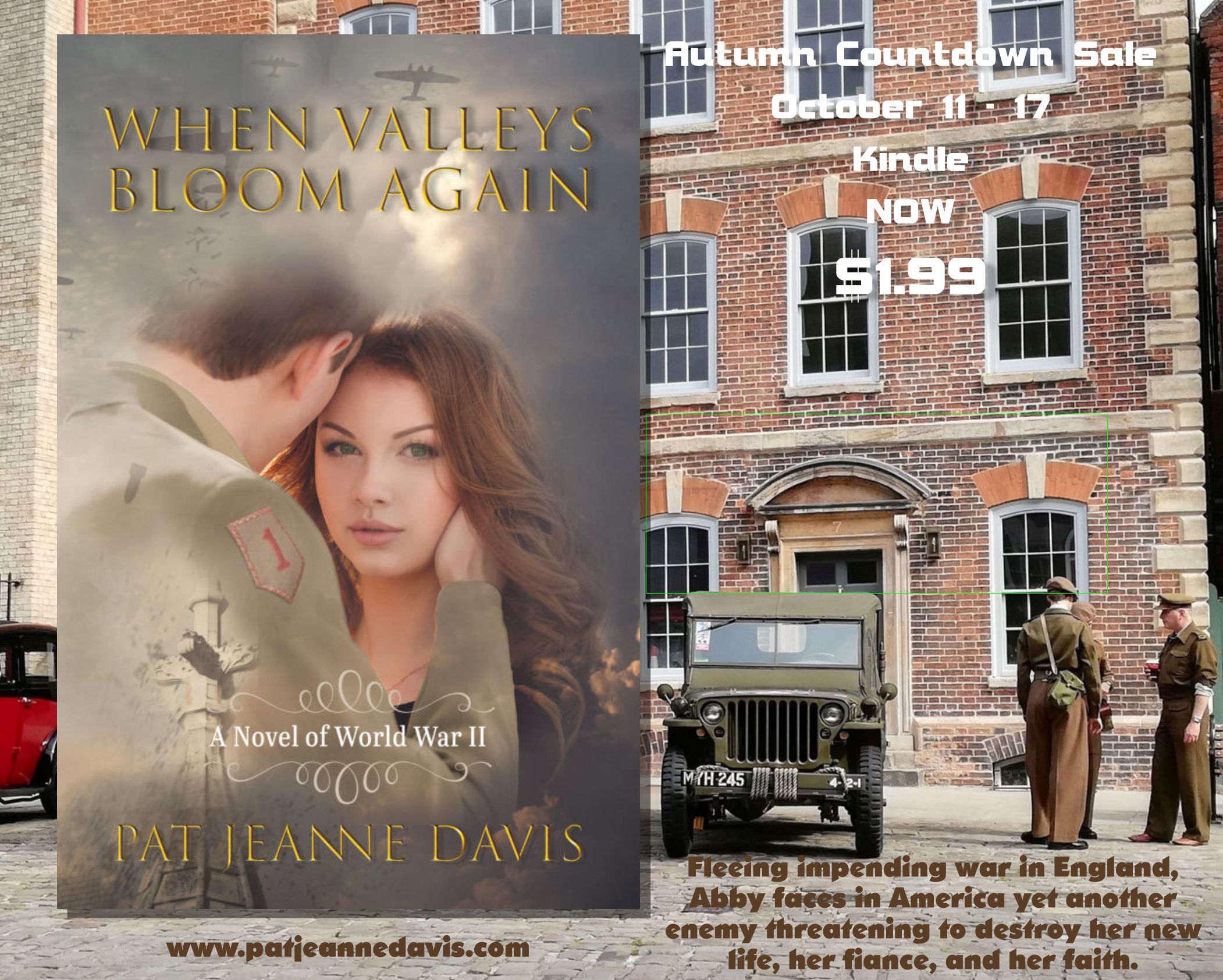 Excerpt from Chapter 3
New York, September 4, 1939
Finally, after sailing in a zigzag course to evade further U-boats, theQueen Mary slipped into the harbor. Abby emerged into the hubbub on deck as they glided under tow into the shadows of the Manhattan skyscrapers. She caught her breath as sirens blared from boats that accompanied them and water cannon spouted a raucous salute. Abby covered her ears as three thunderous blasts from their liner returned the greeting. Streamers of red and white and blue criss-crossed warehouses and the tall masts of ships moored nearby. American and British flags flapped an exuberant "Welcome" in the salty breeze as music from a brass band floated up from below.
Abby leaned against the ship's railing, letting out a deep breath. She tried to see herself as a brand-new arrival, taking it all in for the first time. An undercurrent of sadness swept over her, diluting her gratitude and relief at a safe arrival. Reality hit hard. No chance of returning now. Still, it wouldn't be enough merely to tolerate her stay here. She must take charge of her own affairs, and not simply react to circumstances forced on her. And she must put on a brave face for the sake of her family. Lord, I need your help.
The swirling mass on the dock below resolved into distinct faces, each searching for an answering look of recognition. Somewhere down there her uncle and aunt waited. Memories came flooding in of visits with her parents to Uncle Will's vast country estate. She hadn't seen Aunt Val in—Abby tallied them on her fingers—four whole years. She had always thought her stand-offish and hoped she'd improved in the meantime.
As the Queen Maryclosed in, men in military garb holding rifles scanned the vessel, their heads in constant motion. Not here too. Policemen weaved through the waiting throng below, looking at papers and detaining one here, one there. Abby seized the railing and closed her eyes. Lord, help me to see this is all working to my good.
Here's a link to book trailer for When Valleys Bloom Again: https://www.youtube.com/watch?v=JHjb8x4eNZI
FLASH: If you haven't read my WWII inspirational romance, now's your chance. From 10/11 thru 10/17 the Kindle version of When Valleys Bloom Again is discounted to $1.99. That's a savings of $3.
Tagline:
After fleeing impending war in England, nineteen-year-old Abby Stapleton works to correct her stammer and to become a teacher in America, only to discover this conflict has no boundaries and that a rejected suitor is intent on destroying her name, fiancé, and fragile faith.
Back Book Cover Description:
As war approaches in 1939 Abby Stapleton's safety is under threat.Her father, a British diplomat, insists she go back to America until the danger passes.Abby vows to return to her home in London—but where is home?With her family facing mortal danger so far away and feeling herself isolated, she finds it hard to pray or read the Bible.Did she leave God behind in war-torn London too?Then Abby becomes friendly with Jim, a gardener on her uncle's estate.
Jim can't get Abby out of his mind.Did she have a sweetheart in England?Was it foolish to think she'd consider him?He curses his poverty and the disgrace of his father's desertion and drunkenness haunts him.Can he learn to believe in love for a lifetime and to hope for a happy marriage?
Abby couldn't know the war would last a long time, nor that she would fall in love with Jim—soon to be drafted by the U.S.Army—or that she'd have to confront Henri, a rejected suitor, determined by his lies to ruin her reputation and destroy her faith in God's providence.Will she discover the true meaning of home and find happiness with Jim?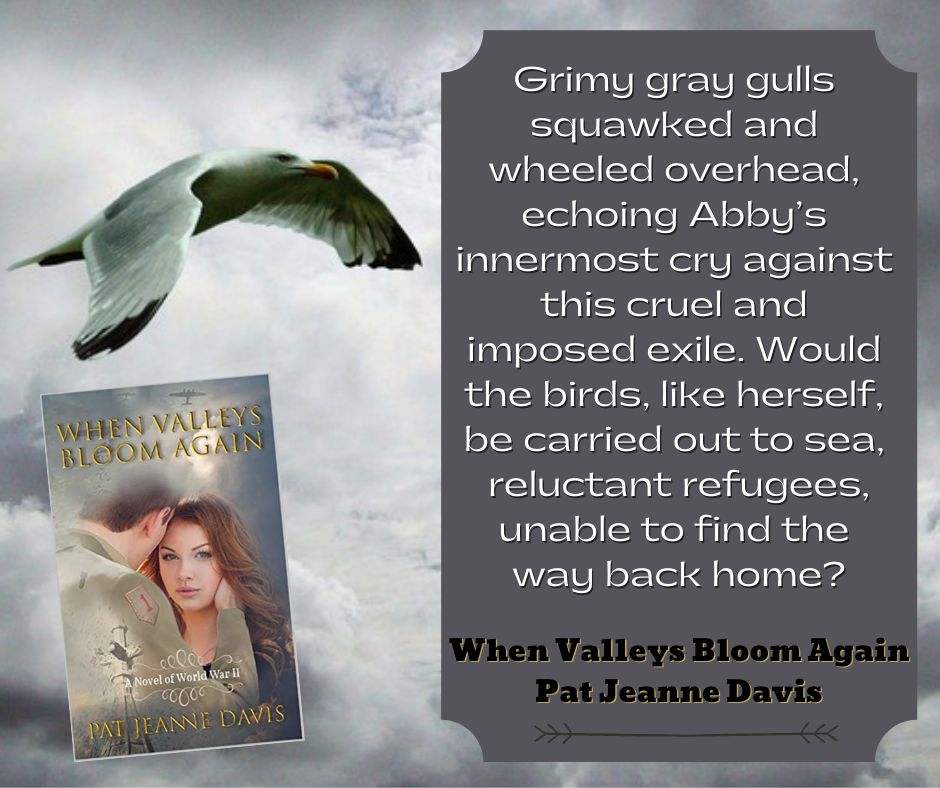 PAT JEANNE DAVIS has a keen interest in 20thCentury United States and British history, particularly the period of World War II. Her longtime interest in that era goes back to the real-life stories she heard about family members who served during the war. When Valleys BloomAgainis a debut inspirational romance set in WWII. She enjoys flower gardening, genealogy research and traveling with her British-born husband. She writes from her home n Philadelphia, Pa. Pat has published essays, short stories and articles online and in print. She is a member of American Christian Fiction Writers and Faith, Hope, & Love Christian Writers. Please visit her at https://www.patjeannedavis.com
Links:
When Valleys Bloom Again can be purchased here: Amazon.com
Barnes & Noble: https://www.barnesandnoble.com/w/when-valleys-bloom-again-pat-jeanne-davis/1130351044?ean=9781948888912
ChristianBooks.com: https://familyfiction.christianbook.com/when-valleys-bloom-again/9781948888929/pd/888932?event=ESRCG
Please connect with me on my social media sites and consider signing up for my latest newsletter on my website.
Social Media:
Website: https://www.patjeannedavis.com
Facebook: https://www.facebook.com/pat.j.davis.7
Instagram: https://www.instagram.com/patjeannedavis/
MeWe: https://mewe.com/i/patjeannedavis
Goodreads: https://www.goodreads.com/author/show/18797403.Pat_Jeanne_Davis
Amazon Author Page: https://amazon.com/author/patjeannedavis
LinkedIn: https://www.linkedin.com/in/pat-jeanne-davis-34290422/
Pinterest: https://www.pinterest.com/patjeannedavis/
BookBub: https://www.bookbub.com/authors/pat-jeanne-davis