Out back, our "cottage garden," is aiming to mimic those in England. These botanical gems appear rather scattered, but are, in fact, designed to appeal to the eye like a butterfly flitting from blossom to blossom.
Our early flowers include coreopsis, and behind, barely peeking through, forget-me-nots with their delicate periwinkle hue.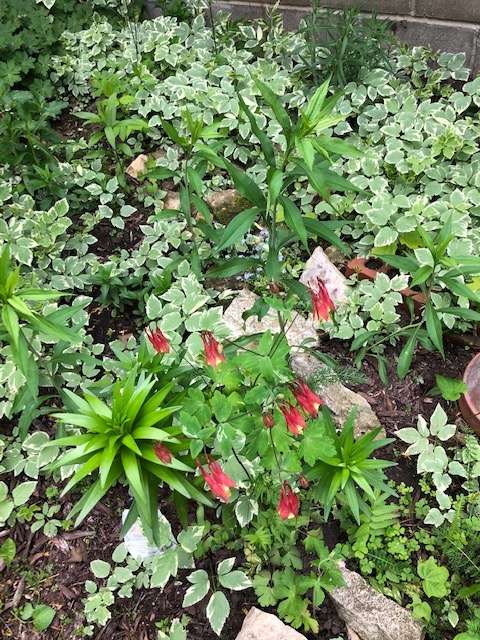 The Romantic poets–think Thomas Hardy and Coleridge–created floral treasures just outside their cottages–hence the name. There, beauty was allowed space to run wild, much like the human imagination.
Here, a few of our daisies are blooming against purple stalks of my favorite ground cover, ajuga.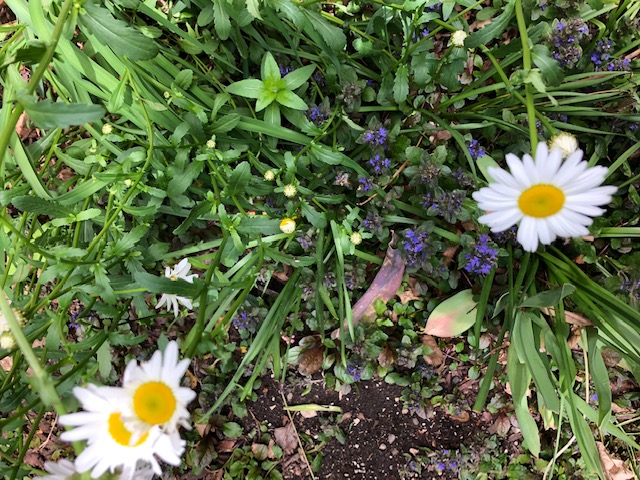 Our garden includes vegetables, and some of our first lettuces added flavor and color to today's lunch:
The novel I'm working on right now moves from England to Texas Hill Country, and over the next few weeks, I plan to share photos from our courtyard here in Northern Iowa, and then some from those Texas Hills as I embark on a short research trip.
After some severe disappointments, our hero emigrates from his native land in the years before World War II. As he begins a new life, he wonders if the climate of these Texas hills will support a cottage garden.
Well, there's only one way to find out! RW. Emerson encourages him along the way: "All I have seen teaches me to trust the Creator for all I have not seen."
Seeing developments in Europe through this British chap's eyes intrigues me. At the same time, his perspective on developments here in the States, like the Pearl Harbor attack, broadens my understanding of those tumultuous days in our history.
Hope you enjoy the blossoming of our cottage garden and an inside glimpse as this story gradually takes shape.(Yep . . . like a cottage garden!)
Aw, I had to run out for a better shot of those lovely little forget-me-nots!