Bonnie Engstrom's novella, A Candy Cane Christmas, makes a perfect Christmas read, and a great gift – honest, playful and full of hope.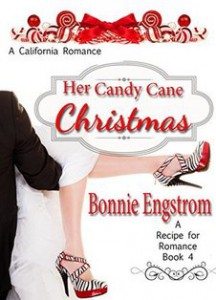 This fun book has some difficult situations its characters struggle to overcome.
Readers will discover how Doreen forgives the person who caused a devastating accident that altered her life forever, how Noelle has the courage to cancel her Christmas wedding, and especially how The Candy Canes bond together. Oh, and how Braydon Lovejoy becomes their anchor.
Christmas offers joy and hope, but will Noelle and Braydon's relationship blossom, and will Doreen forgive the woman who caused her accident?
And what does Candy Cane Cindy have in her future? For that answer, you'll have to check back in January when Cindy tells her story for Valentine's Day.
Purchase Link:
http://www.amazon.com/s/ref=nb_sb_noss?url=search-alias%3Dstripbooks&field-keywords=Her+candy+cane+christmas+by+bonnie+engstrom
You may contact Bonnie at:  bengstrom@hotmail.com or her Author Page on Facebook