Welcome to Jen Turano, a Bethany House author who is releasing her thirteenth novel….Here's a brief history of her writing.
Named One of the Funniest Voices in Inspirational Romanceby Booklist, Jen Turano is a USA Today Best-Selling Author, known for penning quirky historical romances set in the Gilded Age. Her books have earned Publisher Weekly and Booklist starred reviews, top picks from Romantic Times, and praise from Library Journal. She's been a finalist twice for the RT Reviewers' Choice Awards and had two of her books listed in the top 100 romances of the past decade from Booklist. When she's not writing, she spends her time outside of Denver, CO.
Jen is offering a giveaway of one paper copy to a fortunate commenter…now, I hope you enjoy getting to know her better.
Tell us about your new release, please. Are you one of those who details the plot before beginning to write, or how does the process work for you?
"Flights of Fancy" is the story of Miss Isadora Delafield, an American heiress in possession of an annoyingly determined mother – one who believes nothing but an aristocrat will do as a potential husband for her one and only daughter. When the dastardly Duke of Montrose sets his eye on Isadora, she decides she has no choice but to flee New York until her mother comes to her senses, which sets the scene for all sorts of unlikely incidents when Isadora, oddly enough, finds herself living on a farm, taking on the role of housekeeper to Mr. Ian MacKenzie, a self-made man with more than a few secrets of his own.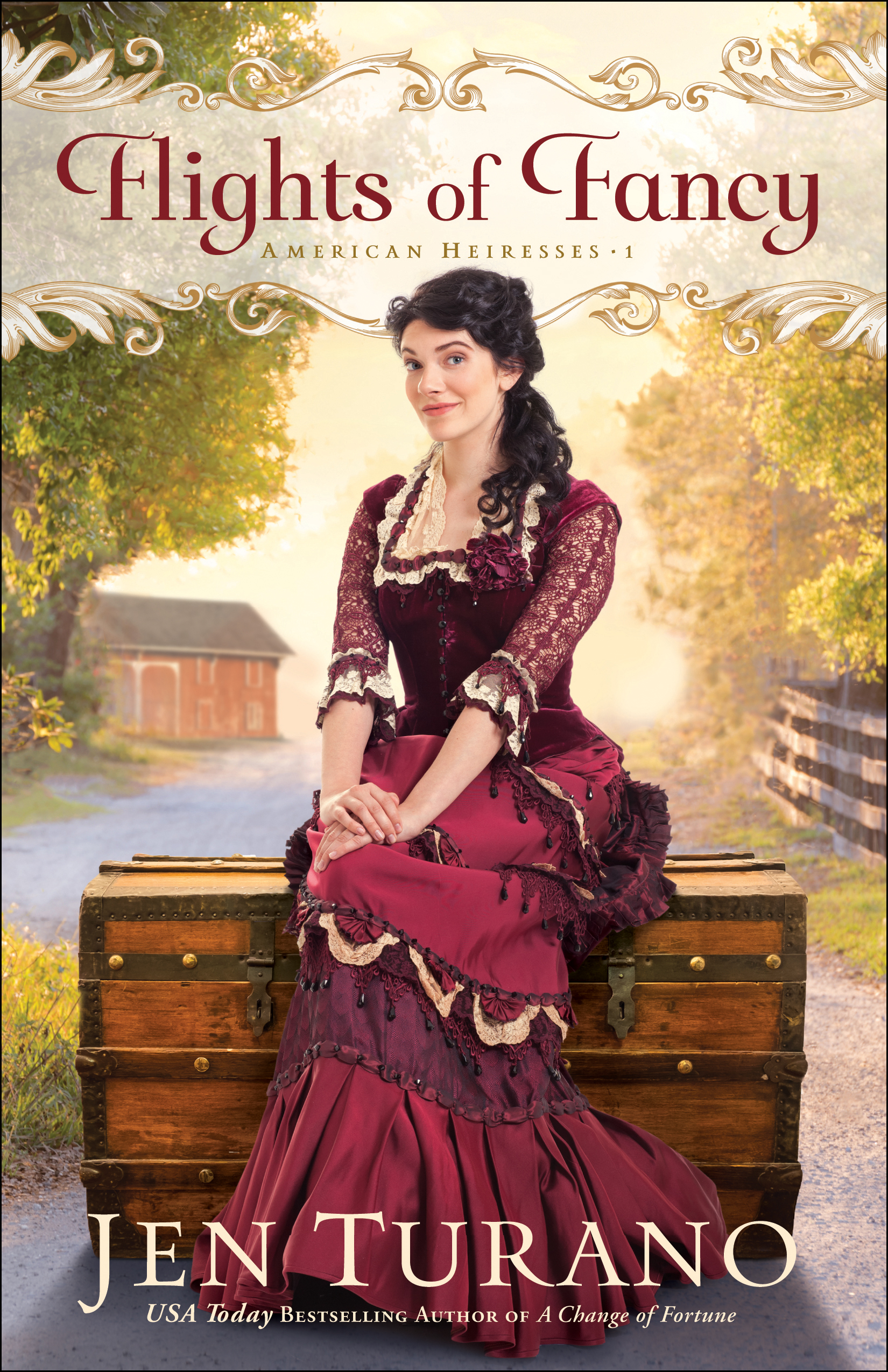 The idea for the story came about as most ideas do with two words…What if. In this case I wondered what if, instead of giving into her mother's wishes, Consuelo Vanderbilt balked and ran away instead of marrying the Duke of Marlborough. Just like that, a series began to take shape and before I knew it, I'd done a proposal for the American Heiress series with Isadora's story being the first of the trilogy. I do plan out my stories in a lot of detail – mostly because I'm required to turn in a proposal to my editors first. Having said that, though, none of my stories ever turn out the way I originally intend, mostly because my characters always have a mind of their own and they take me exactly where I need to be taken.
What unique aspects about your research can you share with us?
The most interesting research I uncovered with this story revolved around the orphanages in Pittsburgh in the 1880's. I was intending on using an orphan train as backstory for the children readers will find in the book, but then I ran across this book – "Child Care in Black & White: Working Parents and the History of Orphanages" by Jessie B. Ramey. It was a fascinating read – detailed how many parents used orphanages much like parents use daycare today, and because of that book, I completely changed one of the plot points.
How did you begin writing …and how has this vocation affected you?
Odd as this will probably sound, I never had any aspirations to be a writer when I was younger. My family leans more toward the sciences, and because of that, I never considered writing as a serious choice to pursue as a career. Much to my father's concern, I decided to major in Clothing & Textiles because I wanted to become a buyer, and even though that was not a career he thought was suitable for me (one of my brothers is a surgeon, the other two are engineers) he figured that since I'd at least be doing a bit of math, it wasn't a completely horrible major to obtain. I worked in retail for years before my husband and I decided we'd probably need to get around to starting a family. And because I didn't think I'd win any Mom of the Year awards if I'd continue traveling after I had my son, I gave up my career to become a stay-at-home mom. When my son was in third grade, we decided to try our hand at writing our own book after reading a horrible series about a bird, and that's when I really began considering pursuing a career in writing. I knew nothing about the publishing industry and certainly needed to improve my writing craft because, even though I'd always done well in English and writing classes, well, I'll merely say that I had quite a few issues, each and one pointed out in detail by agents who were kind enough to lend me their advice, even if that advice was incredibly painful at times. After about seven failures, I finally landed an agent, and then she very kindly went out and sold "A Change of Fortune" to Bethany House. I've been writing for them ever since.
Thanks so much. I'm glad you persevered, and so are your readers.
Connect further with Jen at these sites:
https://www.facebook.com/jenturanoauthor/