WELCOME to Claire Sanders, award-winning inspirational fiction author. Claire tells us about her latest CIVIL WAR release here, and is offering a paperback copy of FREEDOM RIVER to one commenter.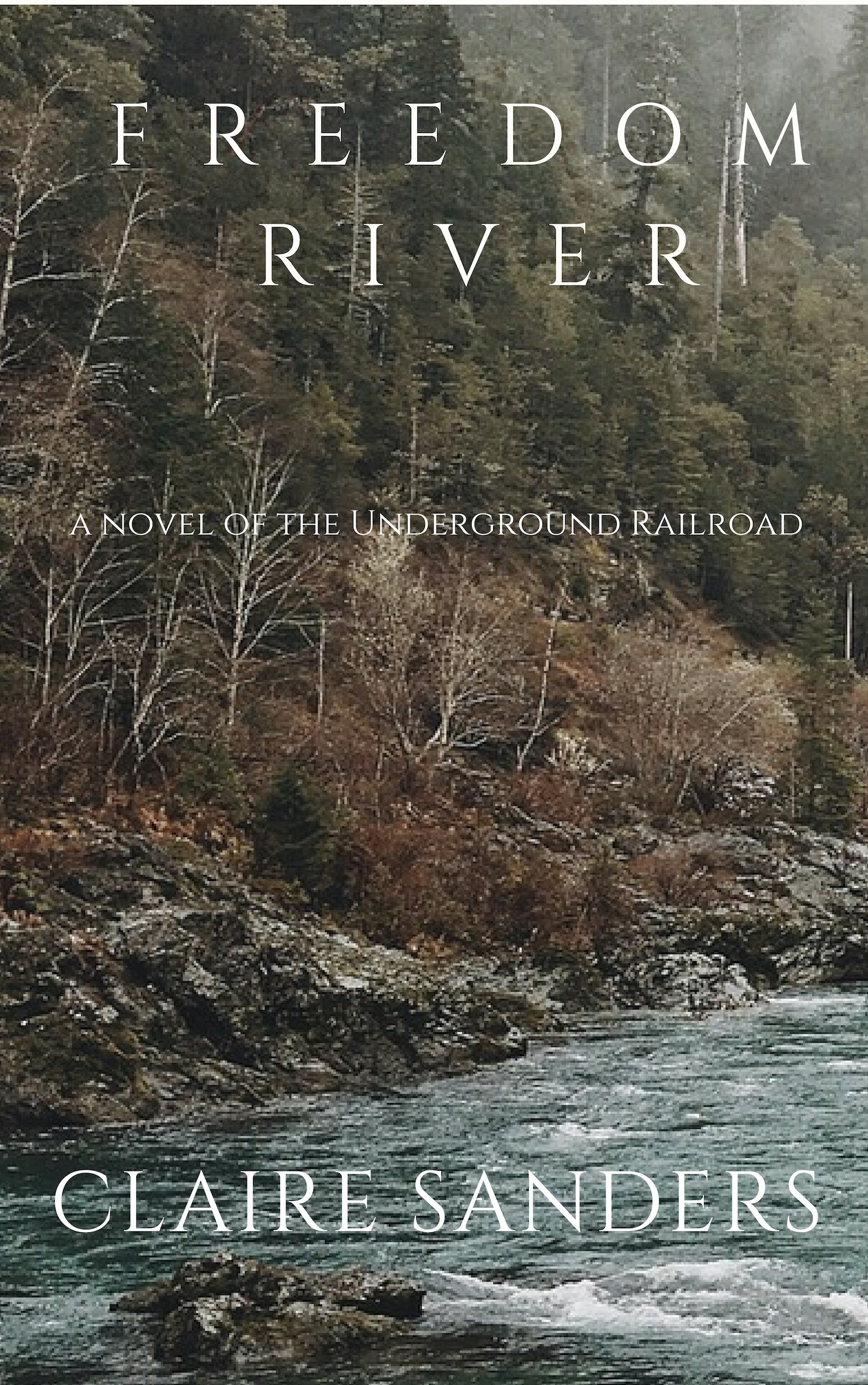 I know the following statement is an open confession that I am a book reading nerd, but I'm going to admit how excited I get when I find a new author I love.  Right away, I look up all of her publications and dive in.
I hope you'll feel the same way about my newest release, Freedom River.  It is a historical romance set during the time of the Underground Railroad. Several of the characters and events are based on actual people and real situations.
Stories of people who fought evil with goodness have always intrigued me. The abolitionists who participated in the Underground Railroad knowingly broke federal law.  They risked imprisonment in order to follow the dictates of their conscience.  I sometimes wonder if I have the same courage of my convictions that they did.
There are four main characters in Freedom River.  Constance has joined the abolitionist movement in Ripley, Ohio, but has done little more than write pamphlets and attend meetings. But her minor role changes drastically when she is the only person available to help a runaway slave.
Micah, once a student of Reverend John Rankin, one of the chief architects of the Underground Railroad, spurned abolitionist teachings and became a slave catcher.  He's sure he's found sufficient justification for hunting runaways, until an escapee gives him reason to doubt.
Opal was born a slave.  She never considered escaping across the nearby Ohio River until her master gave her no choice.  Will risking her life and the life of her baby for an unknown future be worth it?
Charlie was born free.  Nevertheless, he helps runaways move to the next safe station or employs the men on his farm.  But what will he do with a beautiful woman who crossed the river with a baby on her back?
I'm sure you'll find Freedom River to be an exciting and engrossing story.  Be sure to connect with me at any (or all) of the online sites below.
Claire Sanders is an award-winning author of inspirational novels.  Her attention is always drawn to stories about someone fighting for what's right in the face of overwhelming resistance.  That, and a life-long interest in history led to an appreciation for the abolitionists who dared to break mankind's law in order to uphold God's law.
Claire writes about Christians in conflict. Never one to preach, she lets the plot reveal how the characters' faith sustains them through the struggle. To find out more and see an complete list of her novels, visit her website –   www.clairesandersbooks.com.
Click here to signup for Claire's newsletter
Connect with Claire through Social Media
Facebook  https://www.facebook.com/clairesandersbooks/?ref=bookmarks
Pinterest   https://www.pinterest.com/joannr2010/
Bookbub  https://www.bookbub.com/profile/claire-sanders