I'm so glad to welcome Dora Hiers this week. Her recent release of Burk's Surrender, the third novel in her Harmon Heritage Series, is reason to celebrate! So she's doing an exciting giveaway to a commenter: a coupon redeemable for ELEVEN Christmas Extravaganza e-books. Wow – be thinking of some brilliant comments!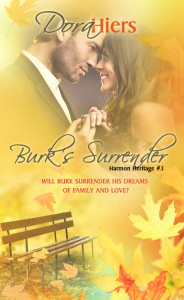 Title of Latest Release: Burk's Surrender
Release Date: 9/18/15
Deputy City Manager Burk Harmon has always been the strong one for his family, but recently those responsibilities have dwindled. When Lacie Heatherton, Assistant Director for Parks and Recreation, ropes him into a city-sponsored trip to the mountains with fifty seniors, Burk has two things on his mind: considering a possible promotion and wooing Lacie past friendship and into a future. Lacie has emotional scars and a thirteen-year-old daughter to remind her that men can be cruel and unforgiving. Can Burk convince Lacie to relax her "no dating" policy or will he surrender his dreams of family and love?
When You Need to Recharge  By Dora Hiers
Struggling to find a job? Feeling stomped on by co-workers? Going through marital problems? Family discord. Rebellious children. Financial challenges. Medical issues. Or maybe you just lost a precious family member or friend.
You name it, and we've probably all faced it at some point. Pressure gains momentum as a culmination of events and issues take turns with their punches. Or it could be one major incident that knocks us until we're staggering backward like a fighter in a boxing ring, squeezing the breath from our lungs until our vision blurs, the voices around us fading into oblivion.
We each handle stress differently. Some people thrive on it. Others tug the blanket back over their head and sleep. I tend to…
Run! Not run away because we all know that doesn't solve any problems. But run to the mountains.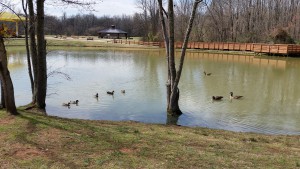 Peace speaks to my soul here. Whispers that everything's going to be all right, that life is more than writing and books. That God is in control and that He's infinitely greater than my paltry problems. Being here brings God more into focus, and the pressure lifts. I can breathe deep again, liberated from the chains of worry that squeeze my chest.
If we can't break away for a weekend, then this is where I run…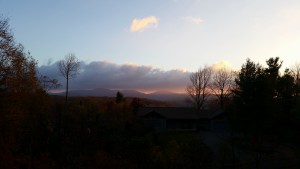 Not quite the same, but it's nice to escape my desk and the mountain of tasks demanding my attention and slip away for a few minutes.
This year has been crazy busy. While I'm beyond thrilled that four of my books released between May and September, that also meant long hours hunched over my laptop, trying to keep the momentum going with my current work-in-progress and the extra writing related to marketing four books. You know how, at times, events just keep piling on your calendar until suddenly you've lost control? That's me this year, somewhere about April. I definitely needed a recharge, so we headed for the mountains over a long weekend.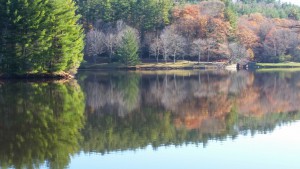 It's the same for hero Burk Harmon in Burk's Surrender. As Deputy City Manager of fictional Harrison, NC, he deals with stress every day in his job, and as the oldest of the Harmon siblings, he's been the glue that held his family together since their celebrity father's tragic suicide. But he has a few weighty decisions to face. Like if he's willing to risk his family's emotional well-being with the increased visibility that accepting the City Manager's position would demand, and moving beyond a decade of being "just friends" with Lacie. When she invites him to tag along with her and fifty elderly seniors to the mountains for a city event, he jumps on the chance to recharge. That, and spend time with her. 🙂
Where do you go to destress and recharge?
He will keep in perfect peace all those who trust in him,
whose thoughts turn often to the Lord! ~Isaiah 26:3 TLB
He's my yesterday, my tomorrow, my today.
He's my redeemer, my hiding place, my refuge.
He's the grace who covers a multitude of wrongs, the beauty in my ugly, the bridge to forever.
He's the restorer of my soul, the quiet in my storm, the still water of perfect peace.
He's my champion, my hero, my rock.
He's the sweet spot in my day, my reason for being,
my very next breath. ~Dora Hiers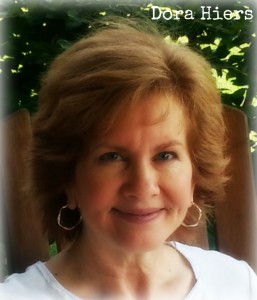 A little about Dora…
After a successful auditing career, Dora left the corporate world to be a stay-at-home mom to her two sons. When her youngest son no longer wanted her hanging out at school with him anymore, Dora started writing Heart Racing, God-Gracing romance. She is a member of Romance Writers of America (RWA) and her local chapter, Carolina Romance Writers.
Dora and her real life hero make their home in North Carolina. When she takes a break from cranking out stories, she enjoys reading, family gatherings, and mountain cabin getaways. She despises traffic, bad coffee, technological meltdowns, and a sad ending to a book. Her books always end with a happily-ever-after!
Connect with her on Fiction Faith & Foodies, Seriously Write, Twitter, Facebook or Pinterest.
Purchase Link: http://bit.ly/17u3Im3