Yesterday I received the official release date from The Wild Rose Press for my debut novel, In This Together. Here's the cover – I guess you can see I'm excited. 
Wild Rose publishes romance of every kind, so you should know right off that mine is classified SUPER SWEET … in other words, it's a lovely midwest World War II era story that won't even make you blush.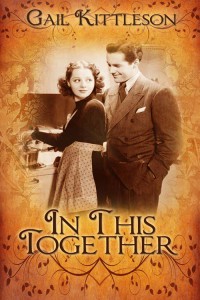 Probably every author dreams of readers falling in love with their main characters, and I'm no exception. Dottie Kyle, my heroine, would be great company along life's journey.
She's forthright, a hard worker, and slugging her way through losing her son in WWII without self-pity. Her husband died just after the war, too, so she took a job at a boarding house in their small midwestern town. This gives her a reason to get up in the morning.
She enjoys providing nutritious meals for the male boarders, who keep to themselves. But challenges arrive with a new employee, and true-blue Dottie tolerates the situation. Eventually though, her employer's nasty behavior tweaks Dottie's sense of justice and she's forced to speak up.
At the same time, widower neighbor Al, husband of the best friend Dottie lost to cancer some years back, starts paying sudden attention to Dottie. She's surprised to find she actually enjoys his company, and shares more of her feelings with him than she'd ever imagined.
Then, Dottie's daughter Cora in California needs her desperately during a frightening turn in her third pregnancy. Will her longing to meet the two grand- babies whose voices she hears over the crackly telephone line be enough to overcome her debilitating fear of enclosed spaces … i.e., the train trip necessary to facilitate this meeting?
Or will she accept help from someone desiring with all his heart to share life with Dottie?
So, to all those I've met in the  past few years–my friends at the Cedar Falls Writers Conference, author and editor colleagues far and wide, and my friends and family, thank you for your encouragement and patience. The road to publication may have been loooong, but it did take me to the desired destination.
And I hope you enjoy Dottie as much as I do. She's quite a gal!
Oh, I seem to have forgotten one important fact: the release date is November 18, 2015. Can you see I need all the help I can get with promotion?!?!