I've never had much luck with morning glories, but this year, decided to try again. Wow … it's struck me how extremely fragile they are–yet many consider them a weed.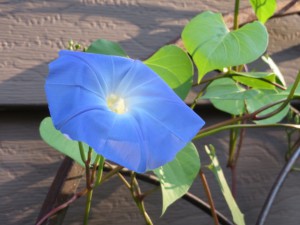 These didn't bloom until the second week of September, but take a look…their periwinkle hue is So beautiful! In this photo of my husband's, you can see how transparent the blossoms are…talk about delicate.
They burst open in the morning, but around noon, start to close up, and by mid-afternoon, you'd never know they'd shared their color with the world.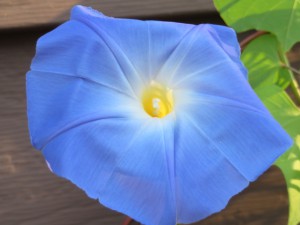 Contemplating these gorgeous flowers' short-lived blooming time set me to thinking of parallels. The most obvious, perhaps, is my faith. Though I'd rather it be constant, full-blossomed all the time, and reliable, reality says otherwise.
I waited all summer for these blossoms to show their glory, and truly appreciated them when they finally appeared. Not like steadfast marigolds that keep blooming the entire season, these frail lovelies can make their appearance and fade before you get a chance to observe.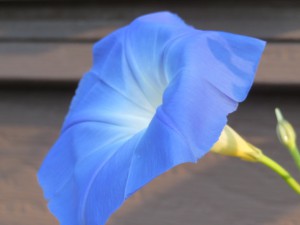 Still, they're beautiful, if only in fits and starts. And all this reminds me of another fact: normal standards fall short when measuring worth.
Those who seem weakest may make a huge difference in small and seemingly insignificant ways. My World War II research overflows with people who tended their posts, no matter how mundane. No setting the world on fire, but still a certain glory in making a contribution.
My characters are like this, everyday folks intent on doing their best. One of them recently told me I'm not finished with her story, even if I thought I'd reach The End. No, she wants to contribute more, desires to make a greater sacrifice for the war effort.
Back to the drawing board … here's hoping the result will enhance her story. And during the rainy, overcast day while I worked on that plot, guess what happened? More glories, multicolored!