One of the participants in my writing class described her attachment to her old billfold. She tacked, taped, and rubber-banded it together for years (she saved those wide bands that hold broccoli stalks together). After losing the billfold from the top of her vehicle, saving it from canine attacks, and various other mishaps, she finally caved.
Along with her missive about said billfold, she brought us a picture. Does this remind anyone of their manuscript, edited, edited, and re-edited almost beyond recognition?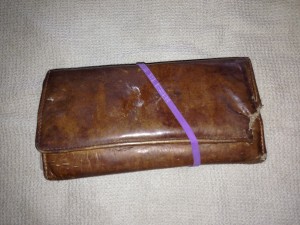 Yet how can we give up the characters? At least for me, it's those heroines, heroes, and villains that call me back time after time. When months have passed since I've peeked at a certain file, I read the first page and wham . . I'm in the story again.
As with my friend's billfold, its the feel of the thing that tugs at us, the familiarity. But sometimes, our patching efforts may not work for our manuscripts any longer–but we don't give them up easily.