How can October be here already? That means November's almost here too, and then…
Does anyone else feel as though time is flying faster than it used to? It's been two weeks since forty-some authors gathered at the Waverly Iowa Public Library's first book fair. Here are our signatures, sent out by an attendee who made sure his sweet daughters received every name in person.
OOPS – I couldn't get that graphic to upload. So instead I'll share one of my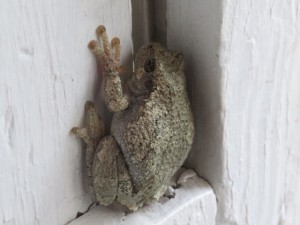 husband's shots. What does little fellow have to do with the book fair? I could probably think of something, because tying things together and making meaning from seemingly diverse segments of life is what writers do, right?
I've begun instructing a memoir class in for the Austin, MN community education organization – six lovely participants, and making meaning is what we DO! Last week I also facilitated a workshop for the Kossuth County Genealogical Society. So great to meet a whole roomful of people working hard on their family histories!
The next day, I met several more creative folks in a workshop for the Sioux Center public library, and then at one in Sheldon, Iowa. I can tie all this together by pointing out that workshops energize us, and driving…well, not so much. I feel a little worn around the edges…speaking of fragile, observe this delicate insect.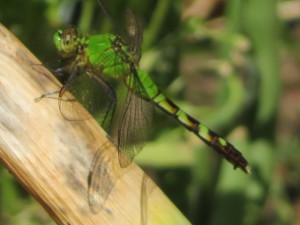 Back home, my editing awaited. Oh yes…editing on the sequel to With Each New Dawn, and more work on another WWII novel that highlights the POW camp at Algona during the war.
So, October is peeking it's head around the corner, and here we are. This month, we'll host a couple of authors with their new releases, so away we go.