Sometimes we surprise ourselves. For example, it's been a few years since I trekked down, down, down to view the amazing Tonto Natural Bridge, about three miles from Pine, AZ. But on Wednesday, a new reader friend invited me to hike the trail.
And we did it, the two of us, with a limp here and a pant there. Definitely worth it, and the next day wasn't all that bad. Just a few twinges in my leg muscles–nothing to compare with the joy of seeing such incredible natural beauty.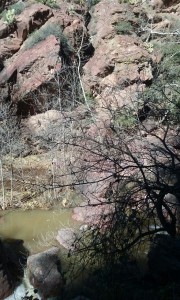 I titled this Not Too Late Yet instead of Never Too Late, because some day, it will be too late for this kind of adventure. Better keep at it while I can. 
Everyday experiences and thoughts often take me to Dottie and Al, the main characters of my first published novel. They're mid-life folks, not expecting much in the way of excitement to show up in their simple rural lives.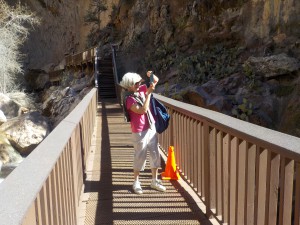 But something DOES show up, and it's pretty exhilarating. New doorways open as they face the future. They surprise themselves, and that can only be a good thing.