This Thanksgiving, I'm grateful for so much. This year has brought some unique challenges, and the support of many friends, tangible and virtual. At my three-month appointment yesterday, my surgeon shared x-rays that show good progress in my hip replacement recovery. Whew!
We have friends and family touched personally by the Covid virus, others battling cancer or enduring delicate surgery. My circumstances seem minor in comparison, yet it's wonderful to hear good news!
In one of the Mayo Clinic waiting areas, this graphic from 2010 shows the number of joint replacements performed up to that time, ten full years ago. Imagine what the numbers would be now, and the progress that's been made.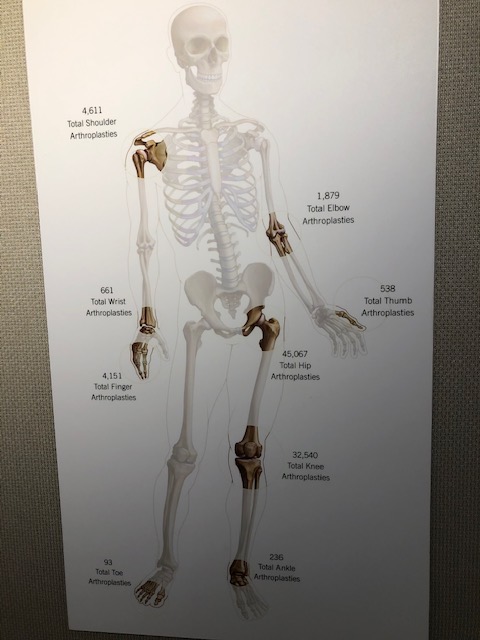 It's such a gift to be able to access this sort of hard-earned expertise, and so good to know that the worries I experienced concerning healing were baseless. Well, they DID have a base in fear. Most of us know how anxiety can weasel its way into our lives again and again.
This stands true with my fictional characters, too. They're regular folks, normal humans, and often believe lies about themselves and the world around them. Their faith may be hindered by deep-rooted, irrational fears … that's the whole idea: they grow and change, overcome and gradually experience victory.
How thankful I am to be able to write! Especially during these months of hunkering down to avoid infection, my characters have kept me company.
Researching the incredible wartime challenges they had to face puts things in perspective, and being able to use my gifts–to contribute understanding of that era to this old world–means a lot. Writing warms my soul and brightens my life like Christmas lights on a shadowy night.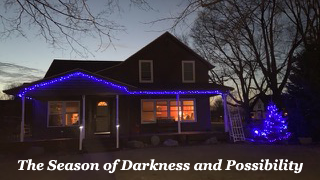 As winter approaches and northern Iowa days become gray and gloomy, it's good to focus on gratitude. In this pause before entering the season of Advent, lights take on new meaning. It's been a rough year for so many, but today, may thanksgiving fill our hearts.