Johnnie Alexander's The Cryptographer's Dilemma joins Saving Mrs. Roosevelt in the Heroines of WWII series, and I'm delighted to share both of these novels with you. Imho, they'd make perfect Christmas gifts for anyone who enjoys this era.
The Cryptographer's Dilemma took me right back to World War II, into the life of a young Navy cryptographer nabbed from her secret decoding work to aid a government investigation. It's a hush-hush operation, of course, which doesn't faze Eloise at all. But the specifics of the situation do bother her. She's being assigned to travel across the U.S. with a male agent. Together they'll be interviewing several folks in various parts of the country, and traveling mostly by train. In addition, this agent fails to impress Eloise when they first meet.
I've read some of Johnnie's other novels, so I expected this story to keep me on my toes. It certainly did, with some twists and turns from Eloise's family background that heightened the tension. (: I hope you make this book a part of your winter reading cache. AND Johnnie is giving one print copy to a fortunate commenter!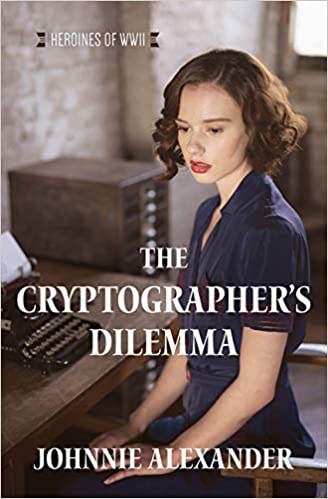 Here's the purchase link:
And more details from Johnnie:
Finding the Doll Woman
A talented codebreaker. A seasoned FBI agent. And a doll collector who sold naval secrets to the enemy.
These characters confront one another in my latest World War II novel, The Cryptographer's Dilemma.
The talented codebreaker is Eloise Marshall who is recruited by the FBI to determine whether seemingly innocent letters about dolls aren't so innocent after all. Eloise, who is mourning the death of her brother who was at Pearl Harbor, wants to do all she can to bring an end to the war.
After studying the letters, she realizes they are written in jargon code. For example, one letter mentioned an old fisherman doll with a net over his back. This most likely referred to an aircraft carrier since safety nets draped this type of ship.
The seasoned FBI agent is Phillip Clayton. When his hope of becoming a bomber pilot is dashed because of his color-blindness, he makes a Plan B. But that plan is also interrupted when he's given one last assignment before he enlists in the Army or the Navy—find out who wrote the forged letters to a Japanese contact in Argentina.
Eloise and Phillip travel from the east coast to the west coast and back again to interview the women whose names were forged on the letters. These letters, which included the women's return addresses, had either shown up in their mailboxes as "Addressee Unknown" or been flagged by postal censors and handed over to the FBI.
They discover that the forger and traitor is an unremarkable woman who owns a doll shop on Madison Avenue in New York City and has an obsession with Japanese culture.
A woman who actually lived. Who actually forged such letters. Who actually betrayed the United States.
Her name is Velvalee Dickinson, a traitor the FBI nicknamed "The Doll Woman" and designated as the "War's Number One Woman Spy."
She was arrested in January 1944 and is the only person known to have provided the Japanese with naval secrets during the war. It's suspected she also had advance knowledge of the attack on Pearl Harbor.
Velvalee pled guilty to breaking postal censorship laws to avoid facing charges of espionage. She served seven years of a ten-year sentence, changed her name, and eventually returned to her home state of California to live out the rest of her life in anonymity.
The Cryptographer's Dilemma is the first novel in Barbour's new Heroines of World War II Series. Full of intrigue, adventure, and romance, this new series celebrates the unsung heroes—the heroines of WWII.
Back Cover Copy
A Code Developer Uncovers a Japanese Spy Ring

FBI cryptographer Eloise Marshall is grieving the death of her brother, who died during the attack on Pearl Harbor, when she is assigned to investigate a seemingly innocent letter about dolls. Agent Phillip Clayton is ready to enlist and head oversees when asked to work one more FBI job. A case of coded defense coordinates related to dolls should be easy, but not so when the Japanese Consulate gets involved, hearts get entangled, and Phillip goes missing. Can Eloise risk loving and losing again?
Bio
Johnnie Alexander creates characters you want to meet and imagines stories you won't forget in a variety of genres. An award-winning, best-selling novelist, she serves on the executive boards of Serious Writer, Inc. and the Mid-South Christian Writers Conference, co-hosts an online show called Writers Chat, and teaches at writers' conferences and for Serious Writer Academy.
A fan of classic movies, stacks of books, and road trips, Johnnie shares a life of quiet adventure with Griff, her happy-go-lucky collie, and Rugby, her raccoon-treeing papillon. Connect with her at www.johnnie-alexander.com.