Holidays always bring Mom to mind. She created plenty of food for seven of us, plus hired men all year long, but really outdid herself on holidays. Entertaining meant a lot to her, and she put forth a mind-boggling amount of effort to produce perfect turkey, dressing, gravy, homeland rolls and pies . . . the works.
We have it pretty easy now, in comparison. Mom's old gas oven threatened to blow every time she squatted down to light the burners. I definitely remember that "poof!" For her, progressing to an electric one must have seemed like heaven.
At age nineteen, setting up housekeeping in a stark little frame farmhouse couldn't have been easy, especially since she grew up in poverty and probably didn't know a lot about stocking a kitchen. But she managed, and people eventually raved about her culinary skills. Oh, the pies . . . luscious crusts, enticing raspberry and peach and apple fillings. My cousin recalls FOOD as being a highlight when visiting us on the farm.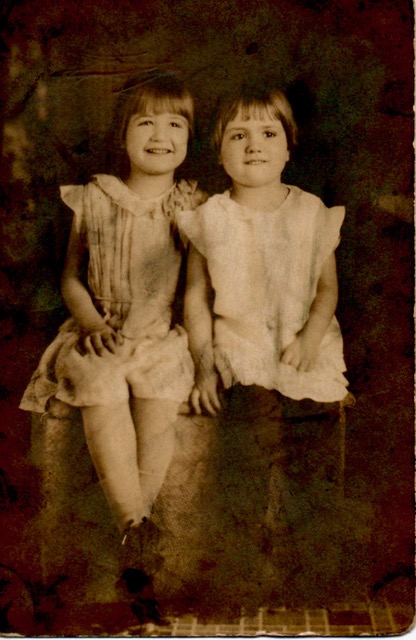 Tthat was due to Mom's willingness to pour herself into cooking and baking. In the photo, she's on the left, at about five years old. In adulthood she always had something perking, and wasn't afraid to try new recipes that came along, like Baked Alaska. For an Iowa homemaker in the fifties, that really says a lot about risk-taking.
Now, our daughter consistently comes up with new recipe ideas, and our granddaughter has grown up knowing her way around the kitchen. This would make Mom proud, because it's a good share of her legacy.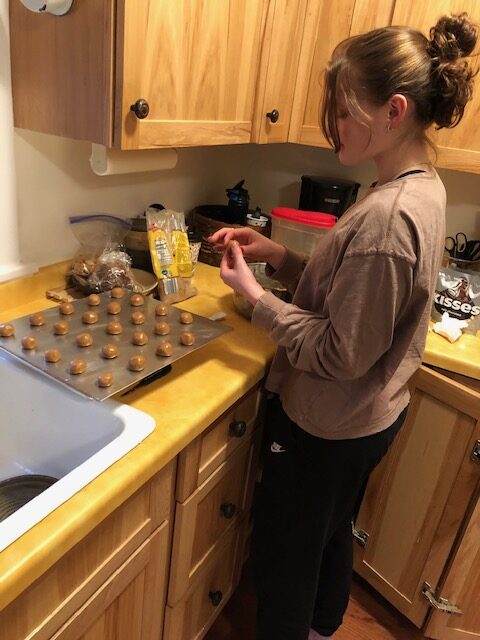 The men may have battled the elements to produce a corn and soybean harvest, but Mom fought her own forays in the kitchen. Making do came naturally to her, having survived the Depression years and World War II rationing.
This morning, I needed to make deviled eggs and was out of mayo, so an old cookbook provided a recipe for making my own. Really not complicated, but requiring a double boiler which I rarely use. The main ingredients, STANDING and STIRRING, brought Mom to mind once again. How many hours did she spend standing at the stove, mixing and tasting and adding a bit more spice, waiting and hoping for a positive outcome?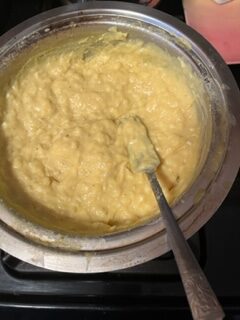 My addiction to the WWII era began in her kitchen, because she hummed or whistled or sang those touching tunes as she worked. And she let me help, too. Drew me right into her world, like a skilled artisan.
No doubt about it, Mom's creations qualified as ART. Her hopes and dreams and aspirations came out in those baking powder biscuits, beef pot roasts, homemade noodles and chicken, and a myriad of other comfort foods. Homemade banana pudding, custard pie that Dad loved, and meringue that peaked as high as anyone's.
I have to say that noticing the mayonnaise begin to thicken brought a wave of satisfaction this morning. Just one heaping tablespoon of flour mixed with 4 eggs, 1/2 cup of cider vinegar, 1/2 tsp salt, 1/2 tsp pepper, 2 tsp mustard, and 1/2 cup of Xylitol somehow caused this reaction. This mixture was fast becoming a creation. (You can make it w/regular sugar, of course, and use GF flour if you wish.)
Who we are today goes way back, doesn't it? Who we have become, rooted in what was, makes a good place to visit once in a while.
May your holidays exude a touch of the nostalgia that makes you into such a unique person in this world hungry for individuality and creativity! And may you find time to stand and stir.