Leaving Fredericksburg, we followed the route early settlers took to find their new homes. A lovely expanse of live oak and pecan trees meets the eye just over the Padernales River, and this is where John Meusebach paused. He had relinquished his royal status back in Germany to emigrate, and accepted the responsibility of seeing many other immigrants to this new land.
"This is it!"
His pulse must have raced at the beauty surrounding him. Perhaps his horse snorted in agreement. Here, a fertile land awaited them–the kind of place where a man could provide for his family.
In 1938, the railroad had come as far as Llano County, but not into Mason County and Loyal Valley. By then, this little town had gone through a name change–earlier known as Cold Water Springs, it became Loyal Valley in the 1860s, as an expression of German settlers' loyalty to the Union, even though Texas had joined the Confederacy.
Everett, his butler/friend William, and Donnie, a lad of three, rode over this trestle still visible in the countryside. (Thanks to my author friend Lynn, who had spotted it previously.) Farther on, the train used a tunnel now filled with bats, since in the early 1940s, the military dismantled the tracks and used them for the war effort.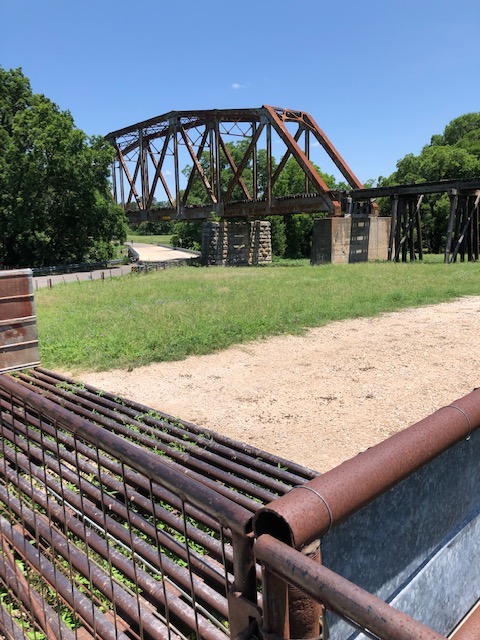 With the help of a local woman, we located the former depot and got a feel for the spot where Everett and his family disembarked for the trip to Loyal Valley. After crossing the Atlantic, searching out a suitable property while staying with a friend in New York, and traveling all the way down to the Hill Country, they were more than ready for their new home.
If they hadn't been able to move in, Loyal Valley offered rooms at this hotel, still standing today.