Our granddaughter had to get WAY DOWN LOW for this photo to work: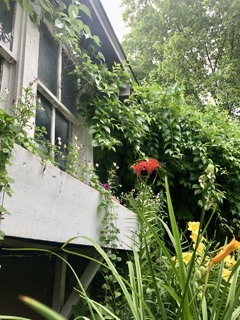 Here, she shot what we normally see, as well as the view looking up:
In researching Land That I Love, I've had to get way down, too.
Way down into German American history in the state of Texas. Way down into human skills of surviving loss and rising above bitterness. Way down into the beauty of nature and how it frosts our lives with joy.
From cottage garden lore to the history of Nottinghamshire, to World War II and how it affected American and British citizens even in remote locales, to learning spelling in a one-room Texas Hill Country schoolhouse- Land That I Love offers all these.
Coming in late August to a purchase site near you!