This week, Pat Jeanne Davis pays us a visit with her World War II novel. When Valleys Bloom Again. I can relate to her visit to England! Pat is offering a free e-book to a commenter.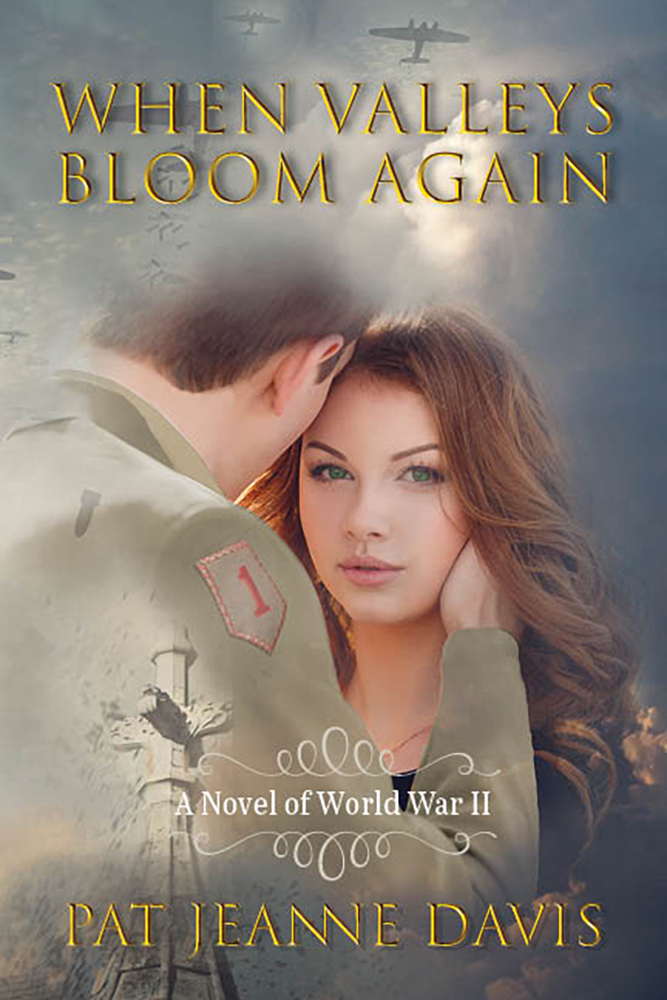 I've had a keen interest in the WWII period, hoping to some day write a faith based novel with an Anglo-American connection. As the ranks of those who lived through those dark days grows smaller, I wanted to highlight their lives in an instructive and entertaining way. When Valleys Bloom Again unfolds through the eyes of Abby Stapleton from an estate on Philadelphia's Main Line with its landscaped gardens, to the bombed-out inner-city and suburbs of London to the battlefield in North Africa and Normandy.
I enjoyed doing research for When Valleys Bloom Again.I talked with those who lived during the WWII era and also had the opportunity to ask questions of veterans in the U.S. and U.K., then in their mid-90's, who were willing to share their experiences and their photographs. I enjoyed traveling to distant and unfamiliar places. I visited living museums in England where people went about their tasks in 1940's clothing. The guides were always helpful and eager to share what they had learned. I'm happy when I uncover an extra special tidbit of information that will enhance my story.
On one research trip, I went into the largest purpose-built civilian WWII air raid shelter in England that was extended to accommodate 6,500 people. The Stockport Air Raid Shelter is a network of underground tunnels a mile long, carved out of the sandstone hills on which the city stands. These provided not only protection but a way of life for families. This underground world, still intact today, gave me an opportunity to learn about the raw realities of life during the Blitz. I came away with a deep admiration for my husband's family and others who struggled to live with only the basic amenities in such depressing and stressful surroundings. In When Valleys Bloom Again, my heroine's parents are forced to take shelter in the London Underground during an air attack.
There are lots of ways I choose characters' names. At times I pull from a book I read, a film or documentary, or maybe someone I've known. In my debut novel, I used my great-grandfather's full name, but added an "e" on the end of his surname. He immigrated to the United States, as had Uncle Will, the lovable secondary character in my novel.
I attempt to give my reader a story that reveals God's overruling providence through all of life's experiences and that with our confidence in God and submission to His will, we can be hopeful and steadfast in purpose, trusting in His promise that all things work together for good. In When Valleys Bloom Again,my heroine, Abby, frequently reminds herself of this promise after she is uprooted from London due to impending war and forced to return to a country far from her family and the life she's become accustomed to.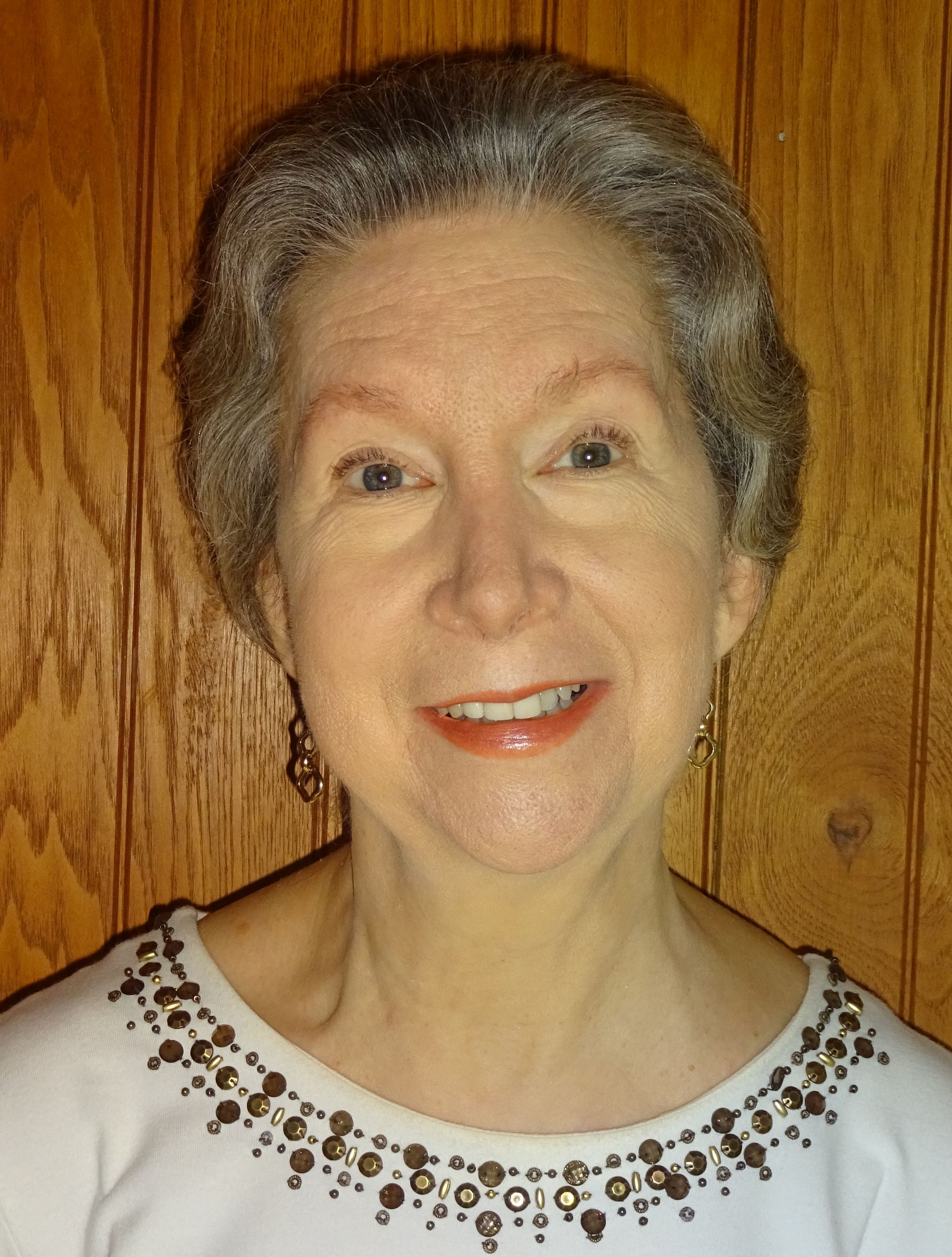 BIO:
PAT JEANNE DAVIS  has a keen interest in 20thCentury United States and British history, particularly the period of World War II. Her longtime interest in that era goes back to the real-life stories she heard about family members who served during the war. When Valleys BloomAgainis a debut inspirational romance set in WWII. She enjoys flower gardening, genealogy research and traveling with her British-born husband.  She writes from her home n Philadelphia, Pa. Pat has published essays, short stories and articles online and in print. She is a member of American Christian Fiction Writers. Please visit her at https://www.patjeannedavis.com 
When Valleys Bloom Again
A Wartime Romance Set On Two Continents
by Pat Jeanne Davis
Tagline:
            After fleeing impending war in England, nineteen-year-old Abby Stapleton works to correct her stammer and to become a teacher in America, only to discover this conflict        has no boundaries and that a rejected suitor is intent on destroying her name, fiancé,        and fragile faith.
Book Cover Description When Valleys Bloom Again:
As war approaches in 1939 Abby Stapleton's safety is under threat.Her father, a British diplomat, insists she go back to America until the danger passes.Abby vows to return to her home in London—but where is home?With her family facing mortal danger so far away and feeling herself isolated, she finds it hard to pray or read the Bible.Did she leave God behind in war-torn London too?Then Abby becomes friendly with Jim, a gardener on her uncle's estate.
Jim can't get Abby out of his mind.Did she have a sweetheart in England?Was it foolish to think she'd consider him?He curses his poverty and the disgrace of his father's desertion and drunkenness haunts him.Can he learn to believe in love for a lifetime and to hope for a happy marriage?
Abby couldn't know the war would last a long time, nor that she would fall in love with Jim—soon to be drafted by the U.S.Army—or that she'd have to confront Henri, a rejected suitor, determined by his lies to ruin her reputation and destroy her faith in God's providence.Will she discover the true meaning of home?
Links:
When Valleys Bloom Again can be purchased here: Amazon.com
Barnes & Noble: https://www.barnesandnoble.com/w/when-valleys-bloom-again-pat-jeanne-davis/1130351044?ean=9781948888912
ChristianBooks.com: https://familyfiction.christianbook.com/when-valleys-bloom-again/9781948888929/pd/888932?event=ESRCG
Social Media:
Website: https://www.patjeannedavis.com
Facebook: https://www.facebook.com/pat.j.davis.7
Instagram: https://www.instagram.com/patjeannedavis/
Goodreads: https://www.goodreads.com/author/show/18797403.Pat_Jeanne_Davis
Amazon Author Page: https://amazon.com/author/patjeannedavis
LinkedIn: https://www.linkedin.com/in/pat-jeanne-davis-34290422/
Pinterest: https://www.pinterest.com/patjeannedavis/
BookBub: https://www.bookbub.com/books/when-valleys-bloom-again-by-pat-jeanne-davis