Don't you love learning new words? My latest, which you see above, means a sudden violent gust of cold land air common among mountainous coasts of high latitudes, a sudden violent wind, or a violent commotion.
Williwaw certainly describes a great many situations in our world this past year. We surely have witnessed a violent commotion in several areas of our lives. In addition to the wild winter weather still bearing down on parts of our country, children are uprooted from their normal educational process, adults are laid off from work, and citizens still sequester in fear. The suddenness of all this makes williwaw an appropriate noun to use in discussing these circumstances.
Of course, this proved true in many other eras in our nation's history, as well. During and after the Civil War, for instance, chaos reigned in many quarters of the U.S. Unemployment, loss of domicile, child endangerment–the list goes on and on. Making comparisons leads us nowhere, but history does offer lessons for future generations.
The Civil War affected widespread areas, and vigilante justice often prevailed. For those with an itch to "Go West, young man," the time was ripe. And for those with underhanded motives, using others for selfish gain proved easier than ever.
Enter one male character of my new release, Secondhand Sunsets. I dare not call him the hero . . . oh, no!
But this story's heroine, young in years yet old in grief, definitely qualifies for her role. Putting ourselves in Abby's place may seem a bit overwhelming, for her losses had mounted due to the war and other tragic events. In our society, she would definitely qualify for several support groups and might be labeled as suffering from PTSD.
Her devastation leads her to trust an untrustworthy man, and she nearly pays with her life. Sickened by the sympathies of her small community, Abby only wants to flee. Comforting words taunt her, and she sees no future in this vale of sorrow.
Her story exemplifies the unconditional love that plants us in hope. No matter how far we veer from our spiritual moorings, we never wander beyond this unchanging commitment to our health and wholeness.
Secondhand Sunsets enters our world in the midst of an anxious time. Grief and loss came upon Abby suddenly, too, like a williwaw. May her journey bring encouragement and satisfaction to readers, one and all.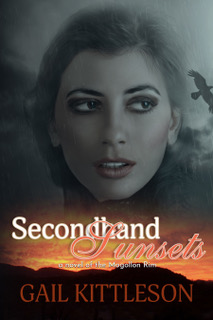 Amazon: https://www.amazon.com/Secondhand-Sunsets-Novel-Mogollon-Rim/dp/195247454XAmazon Kindle: https://www.amazon.com/Secondhand-Sunsets-Novel-Mogollon-Rim-ebook/dp/B08XTJC1JDBarnes & Noble Nook: https://www.barnesandnoble.com/w/secondhand-sunsets-gail-kittleson/1138920048Kobo: https://www.kobo.com/us/en/ebook/secondhand-sunsetsApple Books: https://books.apple.com/us/book/id1556170460Google Play Books: https://play.google.com/store/books/details/Gail_Kittleson_Secondhand_Sunsets?id=SbUgEAAAQBAJ