Word Play Becomes a Career Move
Sandra is offering to the first three readers to post comments below a free PDF copy of "How to Write and Punctuate Dialogue with Confidence." It includes: How to write effective dialogue, punctuate it and tag it, plus extensive lists of substitutes for "said" (by purpose, mood, volume, sound and more!).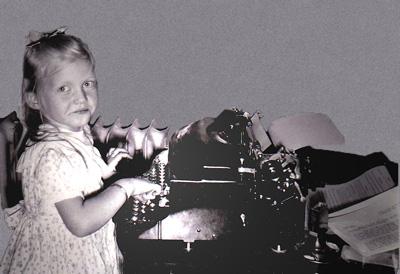 In a recent interview I was asked how long I'd been editing. My immediate (gut) answer was: "Forever!" Well, maybe not quite that long, but it brought to mind a photo I'd found among my mother's things. It was me as a youngster while we were in Heidelberg, Germany where my father worked in medical records in a U.S. Army hospital after WWII.
Dad loved writing stories and poems, and he encouraged me to plunk out stories as well. The keys created fine dark images which surely formed wonderful stories, or so I believed. Since I couldn't read or write, let alone type, at that time, it was a practice in vain. Or was it …?
My dad loved playing with words, imitating his favorite poet Ogden Nash. It was that "after war" period when society ached for fun and levity, and words provided that in our house. Dad would read his poems to me with a gleam in his eye. The oddity of rhyming schemes and playful meanings entranced me. No wonder years later I would write stories with tongue-in-cheek tones as I began to be published.
That fascination with words continued to intrigue me as I participated in critique groups. I soon realized I was as interested in reviewing the wording of other writers as much as in writing myself. That eventually led me to editing of Writers Open Forum (later becoming Writers International Forum) and then into serving writers with editing services.
I've been privileged to edit memoirs of people with amazing lives, mysteries that enthrall readers, fantasies that take us out of this world, and adventures that plunge readers deep into the wild forests of nature as well as the dangerous jungles of human emotions. I've experienced eras and traveled through countries that I could never have otherwise, enjoying so much of life through the reflections and imagination of others.
I feel grateful to my father for sparking in me the wonder of written words. And for that old typewriter that let my own young imagination soar. As our society tumbles through troubled times, I hope to help writers find their voices as well to entertain and inform and enlighten readers of the future.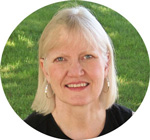 About the author:
Sandra Haven lives on Washington state's evergreen Olympic Peninsula with her husband. She formed a private FaceBook group page for Writers for the Next Reality for those looking ahead at the changes in our world. Feel free to join it! She also provides editing services for authors through her website, Haven4writers.com. You can email her directly or find her on these social media:
Email: services@bristolservicesintl.com
Website and Blog: Haven4Writers.com
LinkedIn: https://www.linkedin.com/in/haven4writers
FaceBook: Sandra's Tips on FaceBook
Twitter: @Haven4Writers