Last summer, I had the privilege of meeting Sharon and Billy Rae Stewart online. After hearing Redd Stewart's incredible story–he composed The Tennessee Waltz, a beautiful song my mother used to sing around the house–I became more deeply involved in bringing this story to the world.
Here's the cover of this new release, and I'm very proud to have played a role in its publication.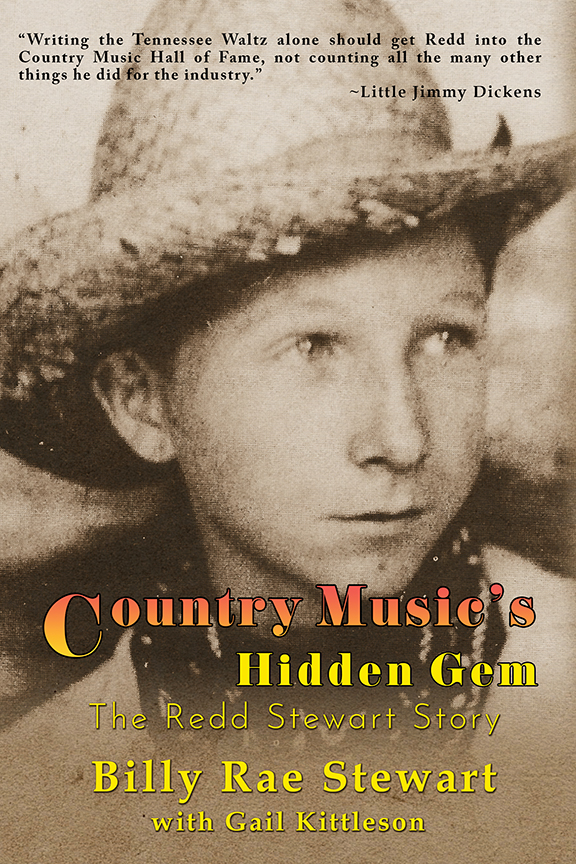 Now I'll let Billy Rae, Redd Stewart's son, describe what it's been like to honor his father in this way. At the end, he shares the gifts he'd like to offer to three of you who leave a comment. I hope you visit the website he and Sharon created as a tribute to Redd, as well.
Hello everyone, this is Billy Rae. Let me start by saying becoming an Author was not on my bucket list. Music has always been my direction since I was 9 years old until my father passed away in 2003. My father's story is an amazing one, full of life's lessons that everyone can benefit from reading.
My father achieved his dreams against impossible odds, and had to overcome many struggles to become successful. His dedication to his craft and determination to succeed made his dreams come true. He succeeded in an industry where most people lose their souls and abandon their values just to become famous, but he did it without doing either. Starting his music career at the age of 13 in the middle of the Depression was enough to make anyone give up, but his life became a true rags-to-riches story.
This is the reason I just had to write this book. When you read it, you will realize that Redd Stewart never quit and also that he didn't get the recognition he so rightly deserved. Writing this book was a way I could shine the light on a man who is what I call, Country Music's Hidden Gem and my dad.
The process of writing the book was much easier than I'm sure most writers go through. I know the subject personally and have heard the stories over and over again. In 2003 when my father passed away, one of the first projects we wanted to work on was a documentary. We gathered together family photos and stories and organized all of the pictures, fliers, posters, awards, etc. my father had saved all through the years. We studied performance videos and interviews and numerous other resources.
We also did video interviews with family members to get stories and insights. On our tribute website for my father (www.reddstewart.com) we had two guestbooks, one for basic stories and comments from fans and one for a petition to have him inducted into the Country Music Hall of Fame. The response was overwhelming. They came in from all over the world from fans and musicians he had played with through the years.
All of this information made writing the book pretty straightforward. We decided to cover his life from the beginning to the end, and broke up all the resources into 10 year periods starting in the 30's when he was born. We then went through each decade and decided the most important events to share with readers.
My wife Sharon made up index cards of those events. With her at the keyboard and me in my chair armed with those cards and resources to make sure I had my dates right, I would narrate the story from my head and she would type as we went along. After each part we would go back and tweak it. And that, my friends, is how we wrote the book!
Writing this book has been a dream come true, and I hope when you read it you will get to know the man I had the privilege of calling my dad. He was truly amazing.
We wanted to do a give away for all who read this blog, so we will choose three names from those who leave a comment, and they will get an E-book of Country Music's Hidden Gem, along with one of my favorite CD's that I personally remastered from the original entitled,'I Remember,' which includes a beautiful 12-page booklet filled with lyrics and pictures that I know you will enjoy.
Thank you all for being here and God bless you all,
Billy Rae Stewart
You may follow Billy Rae and Sharon's FB page My Unexpected Journey (White Socks Rock)
COUNTRY MUSIC'S HIDDEN GEM can be purchased here:
Paperback: https://www.amazon.com/dp/1952474396Hardback: https://www.amazon.com/Country-Musics-Hidden-Gem-Stewart/dp/1952474388/