NOTE: Julie Arduini tells about her latest novel here, and is giving one away to a commenter. Enjoy!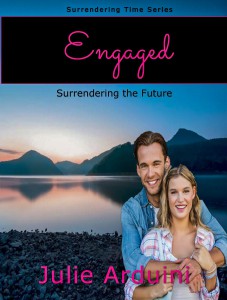 Last year I led a ladies Sunday School group through Lysa TerKeurst's Uninvited. We shared personal stories, so I recalled a time I thought my future was all lined out. I was so certain I knew what God had for me that I went to the library to read up books on my calling. Granted, I had no confirmation in any way this was where my life was headed.
I was a new Christian who thought I knew everything, most of all, the course for my life. When I was wrong, so very wrong, I told the class that I didn't even cry. I had a peace that I now know came from God. I ended that season by saying if that path wasn't for me, and it had been so nice, then I looked forward to what WAS His plan. His answer and very obvious plans for me came to pass not even a year later.
That's why I related to the heroine in ENGAGED: Surrendering the Future. Trish Maxwell thought she had everything figured out for herself. As a little girl in the mountain village of Speculator Falls, her eyes focused on living in New York City. When the job offer came, Trish left her hometown without even saying goodbye. She left her position at the senior center, all the seniors, and even her high school sweetheart, Ben Regan.
Trish was part of ENTRUSTED, and she played a mean girl of sorts. She felt the small village was beneath her, and she had no idea how hurt everyone was about her leaving. When ENGAGED began, Trish changed. The dream job was a nightmare, and it didn't last. She returned to Speculator Falls, living with her parents. She worked at the department store. Ben married the city-girl who replaced Trish at the senior center. And a lot of people weren't thrilled to see Trish return.
The heart of ENGAGED explores what God can do when we surrender failed dreams for His plans. When Trish met paramedic Wayne Peterson, she didn't know about his growing faith borne out of surrender. He had to give up childish plans for what was best. Trish didn't have a "Plan B," and her faith was more about doing whatever her parents did. She had a bit of maturing to do, but was willing. It was such a fun story to write.
I've been asked about my favorite part to write, and I loved the entire story. Not only did the story come full circle, I was able to wrap up the Surrendering Time series, too. However, when I needed to pick one thing, I admitted every scene with Trish and senior volunteer extraordinaire Shirley McIlwain together wrote itself. Shirley took her duties at the senior center seriously and when Trish left, Shirley couldn't shake the betrayal. As ENGAGED moved forward, the two interacted a lot. When they attended a baby shower, it was a sweet moment that I'm proud of.
Trish, of course, encountered romance along the way. Wayne, a single-dad, took that role seriously, which wasn't always the case. Wayne listened to the gossipy whispers that Trish would leave town as soon as the opportunity came, so their romance had conflict from the beginning. Did they work out their issues? I hope you'll read ENGAGED to find out!
I have ONE copy of ENGAGED to give to a North American winner.
Did you miss reading Book 1, ENTRUSTED? Read the e-Version for FREE at juliearduini.com.
Julie Arduini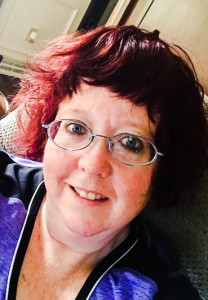 loves to encourage readers to surrender the good, the bad, and —maybe one day—the chocolate. She's the author of ENTRUSTED: Surrendering the Present, as well as ENTANGLED: Surrendering the Past. The last book in the series, ENGAGED: Surrendering the Future released in June. She also shares her story in the infertility devotional, A WALK IN THE VALLEY. She blogs every other Wednesday for Christians Read, and also is a blogger for Inspy Romance. She resides in Ohio with her husband and two children. Learn more by visiting her at http://juliearduini.com, where she invites readers to subscribe to her monthly newsletter full of resources and giveaway opportunities.
Facebook: http://facebook.com/JulieArduini
Twitter: http://twitter.com/JulieArduini
G+:https://plus.google.com/u/0/+Julierduini/posts
Pinterest: http://pinterest.com/JulieArduini
Instagram: http://instagram.com/JulieArduini
Snapchat: https://www.snapchat.com/add/JulieArduini
Goodreads: http://goodreads.com/JulieArduini
Amazon: http://www.amazon.com/Julie-Arduini/e/B00PBKDRSQ/
Monthly Newsletter: http://eepurl.com/dCFG