Painting, re-arranging furniture, taking some things to the thrift store, and finding a couple of small items to fit better into our new decor – all everyday activities, but we've been enjoying them. Maybe because no deadline looms, this re-doing has been a fun project.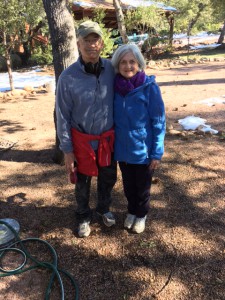 I'm reminded that I've never known a more conscientious worker than my husband, and am so grateful for his steady personality.
A neighbor took this picture of us the other day, with our house in the background.
It's good to rest, to restore, to refurbish … together.
I've also been working on another book in the Women of The Heartland series while awaiting my first peek at With Each New Dawn – should arrive any day now! If you'd like a glimpse, click here: http://tinyurl.com/jmvc36a