Welcome to Janell Wojtowicz, with her debut novel, Embracing Hope. If you'd like to qualify to win an e-book copy, please leave a comment below.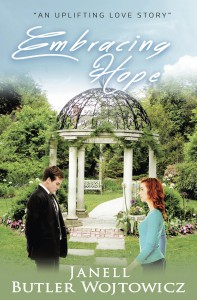 How did you chose your genre, Janell?
If someone had told me thirty, twenty, even ten years ago that I would publish a Christian romance novel, I'd have guffawed and rolled my eyes. Puleeease! I'm a serious writer! I've reported on the Iowa caucuses, covered a murder in a small town, written fund-raising letters telling true stores of tragedy and triumph, and pitched centennial celebrations to national media.
No way would I write sappy love stories where there are always happy endings—usually with a handsome man on one knee holding a diamond in a little black velvet box—or better yet, a beautiful bride in a princess ball gown floating down the aisle to that handsome man.
Well, crow should be my main course at every meal. In November 2016, my debut Christian contemporary romance novel, "Embracing Hope", was launched to the masses. I blame it all on a BBC version of "Jane Eyre" in 2007. The night after watching the movie, I dreamt the beginning, middle and ending of what was published nine years later.
When I first started writing the novel, I was hesitant to admit it was a love story, and a few times I got snickers when I told people. After all, they knew me as a journalist/PR professional who wrote about emerald ash borer, mission trips to China, and pig (yes, pig) judging at county fairs. Then I began finding women who said they liked Christian romance. It's a clean, uplifting genre, they said. They aren't reluctant to leave the book lying around the house where their daughters and granddaughters might find it and ask to read it. They don't blush at erotic images or cringe at the foul language.
I've learned that there are THOUSANDS of Christian romance authors out there, and it's a popular and growing book niche with millions of readers. Dare I admit that some of those ardent readers will find my novel sweet and sappy? Probably, after all, there's a happy wedded-after—except not on bended knee or in a ball gown. My goal is to make readers cry, so keep a tissue handy when you read it. One reviewer told me she got so involved in the plot that she felt the need to pray for the main character! Yet Christian romance has attracted a growing audience because most novels have a message beyond romance. In my case, the message is of hope and forgiveness in the aftermath of tragedy.
I'm still a little hesitant to say I'm a romance novelist. Get over it, Janell! After all, if my brother, a Baptist preacher, feels comfortable telling his congregation that his sister wrote a Christian romance—and read it himself—then I can be comfortable admitting it, too.
My name is Janell Butler Wojtowicz, and I AM a Christian romance novelist!
 Thanks so much. I can relate, because I really didn't plan on writing fiction, either. We appreciate hearing your story, Janell. 
Born and raised on an Iowa farm, Janell was one of those kids who loved to write the dreaded "What I did on summer vacation" essay. It's no surprise she spent her entire 30-year career in writing. Much of it has been the "people stories" of trial, tragedy and triumph, which are reflected in her debut novel. Janell is a freelance writer/editor, and a member of American Christian Fiction Writers. She and her husband, Frank, live in New Brighton, Minnesota. She has two step-sons, a step-daughter-in-law and three step-granddaughters. "Embracing Hope" is her debut novel.
NOVEL SUMMARY
Christian college dean Drew McKinley mourns his dead wife and still wears his wedding ring.He stumbles on a desperate journey to understand God's motives for her tragic death. Crossing his perilous path is Allison, a graduate student and new employee in the dean's office. Even as she deals with financial hardships, she recognizes Drew's unresolved grief from her own loss. Putting up a roadblock is Chris Whitney, the handsome but egotistical student senate president. He carries the secret burden of a dysfunctional family and a below-the-surface temper.
The road Drew must navigate is fraught with career upheaval, a reawakening heart, substance and domestic abuse, a violent assault, and the struggle for forgiveness and restoration. Will Drew finish his journey to embrace the hope God offers, the love Allison shares, and the guidance Chris needs, or will he turn his back on all three with catastrophic consequences?
You may reach Janell here:
 Buy Links for Embracing Hope