Welcome to Elaine Stock, and congratulations on your recent writing award!
9 Ways to Crunch Time While Saving Sanity by Elaine Stock
In all honesty, this is a fairly wonderful time for me. I can say this without bragging because I'm praising God for His blessings. On top of Life 101 and the day job, I've just won a national writing award and am trying to share the news, I'm about to launch my next novel, Christmas Love Year Round, and after a 30-year wait, I'm ecstatic to say that my kitchen is getting remodeled (which means, of course, I'm living with packed boxes all over the living room and no longer have any kitchen counters or cabinets until the new ones are up—and this is the way of life 2 weeks ahead of time because the floor has to be refinished). Lots of craziness, but I'm rejoicing. As one who has seen one too many upheavals through the years that I'd rather not have seen, and who knows what awaits ahead, I'm enjoying these good but chaotic days. Each day I awake and remind myself that I'm in God's hands. It will all be okay for me.
It will all be okay for you.
Here are some tips I'm sharing to save your sanity:
1)Praise God. Whisper. Say thank you, Father, out loud. Think silently while others are talking to you. Say in prayer as you drift to sleep…while you shower…while you inhale your first mug of coffee. God has the world in control, and yep, that includes you. You are His beloved daughter or son. He doesn't want you to suffer.
2)Befriend Your Constant Companion. As a continuation of #1, realize and accept that God is not only your Heavenly Father, but also your friend. Your companion. He is with you 24/7. It helps to make life less scary and overwhelming.
3)Consolidate Errands and Chores.  Map out your weekly strategy ahead of time and consolidate time and days. Sure, it may mean you might have to leave for work on the earlier side or arrive home later, but try to run errands on 1 or 2 days rather than 5 or more a week. Trust me—it's a nice sense of breathing room when you have an extra 30 minutes to yourself here and there.
4)Use Daydreaming Creatively. When did I come up with this blog post? While at the day job yesterday! #ThankfulForBoringWork. You may want to reconsider if you're a brain surgeon, childcare worker or…you get the picture, I'm sure. However, even if your work or personal demands are more attention-oriented than mine, there must be some downtime, like breaks, that you can constructively ponder away book scenes, uncooperative characters, or writing the next blog post.
5)Allow Off-days and Off-moods. Face it, sometimes it's just plain okay to stress or be moody. Actually, get it out of your system and then quickly move on. This happened to me a few days ago when I woke up and things just felt off-kilter no matter what I did or thought. It happens. This time though, with everything going on, I remembered the above #1 and #2 and sure enough this mood passed rather quickly and I got back into the proverbial swing of things.
6)Ask for Help. What is it about us humans that we tend to be reluctant to ask for help? I may have asked for how-to help before my novels were published, but it wasn't until my 3rdbook was released did I start a Street Team. These ladies have blessed me with their time, support, and most importantly, their friendship. Another thing I've been late in doing (albeit, I admit I don't participate enough due to time constraints) is joining a few select Facebook groups to see and to share what others know.
7)Accept that You Can't do it All. This is a hard one for me, mainly because I want to do it all. I'm like a child with one toy who wants more. Creativity gives me a happy buzz! Yet, financial restraints dictate my limited time; writing desires dictates my social media involvement. It's a matter of…
8)Prioritizing. Yep, you saw that one coming didn't you? Daily, prioritize. Family. The day-job. Friends. Obligations. Commitments. Vacations. Kitchen-remodeling. Ah… it's back to #7. Speaking for myself, I'm slowly but surely realizing that I cannot do it all. And this brings me right back to…
9)Praise God. Thank you Father, that my life is in Your awesome hands. You can handle it. You want to handle it. And I surely cannot.
Elaine Stock is the author of the novels Her Good Girl, winner of the 2018 American Fiction Awards in the Christian Inspirational category,andAlways With You, which won the 2017 Christian Small Publishers Association Book of the Year Award in fiction. And You Came Along, a novella, released in December 2017. Her novels fuse romance, family drama and faith in a clean fiction style. She is a member of American Christian Fiction Writers, Romance Writers of America, and Women's Fiction Writers Association. In addition to Twitter, Facebook, and Goodreads, she hangs out on her active blog, Everyone's Story, dedicated to uplifting and encouraging all readers through the power of story and hope.
Born in Brooklyn, NY, Elaine has now been living in upstate, rural New York with her husband for more years than her stint as a NYC gal. She enjoys long walks down country roads, visiting New England towns, and of course, a good book.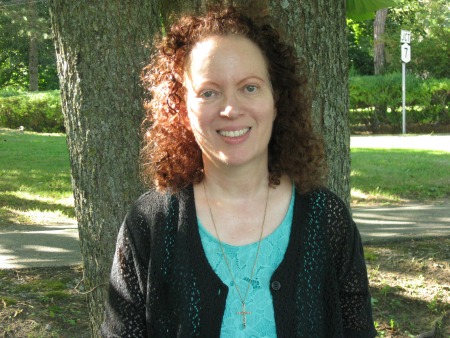 You may connect with Elaine here:
Website:http://elainestock.com
Everyone's Story blog: http://elainestock.com/blog
Twitter:http://www.twitter.com/ElaineStock
Facebook:https://www.facebook.com/AuthorElaineStock
Goodreads:http://goodreads.com/ElaineStock
And here's a summary of Elaine's latest release, Christmas Love Year Round:
Cami Richardsonis good at chasing away the men in her life:first Gavin Kinkaid, a former classmate she'd helped to bully, and later, her husband who left her widowed and a single mom. Now all she wants is to bring a smile back to her eight-year-old son. What she doesn't expect is for Gavin to become her new neighbor.
Gavin wants to settle down after serving in the Air Force and mend the separation between him and his dad. What he didn't count on is his changing feelings when he sees Cami as a kind woman instead of his former adversary.
When Cami's son blindsides them both during the Christmas season, is their reunion at risk or will it grow stronger?