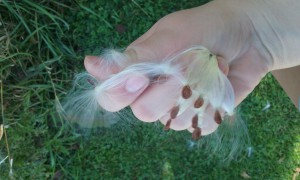 Probably many of my readers recall picking milkweed as children–such an unique plant.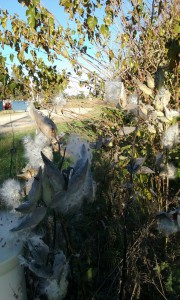 Yesterday my twelve-year-old granddaughter and I reveled in the superb softness of milkweed down. She sent it flying far and near, and piped, "Grandma, it's softer than my special silky blanket!"
For the sake of the Monarch butterfly,  people have started re-growing this "weed" that used to flourish in Iowa's ditches. Back in the forties and fifties, milkweed fluff was everywhere.
Many of us ran our fingers over the satiny floss that floated like dandelion fluff on sunny fall days. But few realized how vital this wispy white stuff had been in the World War II effort to save sailors' lives. The Japanese controlled kapok, the normal life vest filler, so milkweed floss became a workable substitute.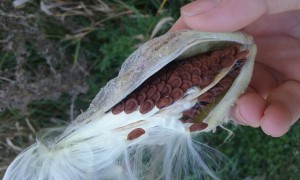 I've been reading an incredible book called And If I Perish, about nurses and doctors who risked–and often gave–their lives to help wounded soldiers. My research also gave me the story of an Indiana sailor who suffered in the waters of the Pacific and would have died without his life belt. He brought it home as a keepsake, and when his mother looked it over, she realized the inspection number on the belt belonged to her.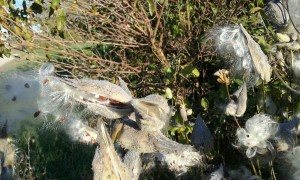 Yes, she worked in a factory that produced life belts and vests. Such an ironic twist to this sailor's story of deliverance. The war era is full of these stories–I can't get enough of them.
One thing is certain, I'll never look at milkweed quite the same way again.