Using Historical Events to Create Fiction
By Tamera Lynn Kraft
I am sometimes asked why I write historical fiction. Many times, reading about historical events will get my creative juices flowing when I think about the lives and stories of people who lived during these times.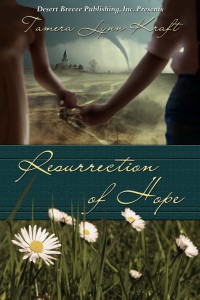 For instance, in Resurrection of Hope, my recently released novella, the historical backdrop helped me create the characters and the story events.
At the beginning (1919), Vivian is depressed, and with good reason. In the last year, her fiancé died in the Great War, influenza stold her family, and she was evicted from her family farm because of her alcoholic father's gambling debts. Enough to depress anyone, but many post WWI families faced the same turmoil.
Many men had died in Europe. At the same time, the great influenza pandemic killed over twenty million people. Very few families had suffered no loss from one of these events. Some families were completely wiped out. Another tragedy of the period was the rise of alcoholism and gambling addiction. A number of men lost everything, leaving their families destitute. This motivated prohibition.
Henry, the male main character in the story, had been a WWI doughboy. He had just returned from the war with all the baggage that came with trench warfare. Many his problems  with Vivian stemmed from his experiences fighting and losing his best friend in the war. The stoic tough guy image most men tried to live up to during that period of time made things worse.
In addition, on Palm Sunday, 1920, one of the deadliest tornado outbreaks in history swept the Midwest, especially Indiana and Western Ohio.
Pausing to announce Tamera's giveaway of an e-book copy to one commenter!
Every story I write starts with reading about historical events and imagining people's lives during that time. I've read historical fiction that could have taken place in any time period, but the writer loses an opportunity to make the stories come alive. Every good historical uses real events not just as setting, but as main characters.
Blurb:
Resurrection of Hope
She thought he was her knight in shining armor, but will a marriage of convenience prove her wrong?
After Vivian's fiancé dies in the Great War, she thinks her life is over. But Henry, her fiancé's best friend, comes to the rescue offering a marriage of convenience. He claims he promised his friend he would take care of her. She grows to love him, but knows it will never work because he never shows any love for her.
Henry adores Vivian and has pledged to take care of her, but won't risk their friendship by letting her know. He believes she's still in love with her late fiancé, and won't risk heartache by revealing his true emotions.
Bio:
Tamera Lynn Kraft has always loved adventures. She writes historical fiction set in the United States because of the multitude of stories in American history. Her stories feature strong elements of faith, romance, suspense and adventure. She has received 2nd place in the NOCW contest, 3rd place TARA writer's contest, and is a finalist in the Frasier Writing Contest, with other novellas in print. Her first full length novel releases in April. She's been married for 38 years to the love of her life, Rick, and has two married adult children and two grandchildren. You can purchase her latest novella, Resurrection of Hope at most online stores including Desert Breeze. Join Tamera on her website at http://tameralynnkraft.net, her blog at http://tameralynnkraft.com, Facebook http://facebook.com/tameralynnkraft or Twitter http://twitter.com/tamerakraft.
Thanks, Tamera – all the best to you on your writing journey.