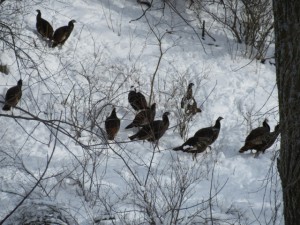 Winter can be daunting. The cold, unproductive seasons of our lives can be, too. Perhaps these wild Iowa turkeys find comfort in facing the blizzardy February weather together.
My husband shot these photos near Osage, Iowa, during weeks of below-zero temperatures.  He focused in on one bird in the next picture, and this fellow looks awfully lonely.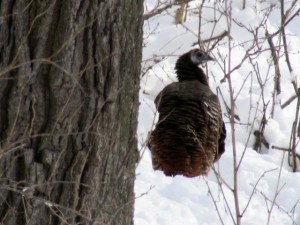 Last weekend, my husband also held the annual confirmation retreat–the weather cooperated this time. Take a look at these kids out sledding–nothing like racing down a freezing hill…together.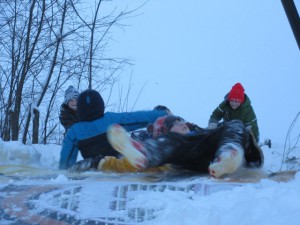 The beauty of it is, cold or no cold, life's brighter with companionship. I see this in my writing world, too–we can get so involved with our characters, they seem  more real than the REAL FOLKS, and discovering new friends online or meeting them in person makes a world of difference.
During this Valentine's week, I'd love to hear how making a new acquaintance or a deepening  friendship has brightened your day/week/year.