Learning from Henri Nouwen and Tracy Groot
Though movie renditions of great books usually disappoint, Unbroken was an exception—Louie, the hero, exhibited many childhood flaws, yet developed the strength of character to endure inconceivable torture. Throughout his long life, he inspired many, with humility. Henri Nouwen might have written the following paragraph for him.
"When we say, 'If people really knew me, they wouldn't love me,' we choose the road toward darkness . . . But humility is  . . . the grateful recognition that we are precious in God's eyes and that all we are is pure gift. To grow beyond self-rejection we must have the courage to listen to the voice calling us God's beloved sons and daughters, and the determination always to live our lives according to this truth." Henri Nouwen Bread for the Journey
Readers of Unbroken will also appreciate Michigan writer Tracy Groot's novel, Flame of Resistance. The main character Brigitte opens her heart to grace as the story moves along—to the idea that she's a worthy human being in spite of . . . well, I'll let you discover the particulars for yourself.

We all like to see characters overcome obstacles, and the toughest often are internal, hidden from other people, but capable of destroying us. I'm so glad for this book's imperfect and yearning heroine.
Tracy shares about the process of creating such a complicated plot with a powerful underlying theme.
"I tend to look upon a work as a whole, and for me, a moral premise can stem from multiple sources within the book–it can be one over-all premise for the whole work, or several themes with maybe one premise that can serve to represent the themes.
I don't focus on moral premise or theme when I begin a work. When I see it later, when it comes to the surface in revision, I may then do some spit-shining to see what I can do to make it come out; but I never make a moral my guiding thread for the writing process. I let my characters play out their lives, and see what comes of it." 
For aspiring authors, her attitude is freeing, and for readers, the result is powerful. Boy, am I glad she allowed Brigitte's life to play out—hers is a story I won't soon forget.
And back to Unbroken . . . if an author hadn't decided to take on Louie's story, we would be so much poorer. Just for fun, I'm adding a photo of an elk my husband took yesterday . . . looks like someone seeking a novel with a great character cast, eh?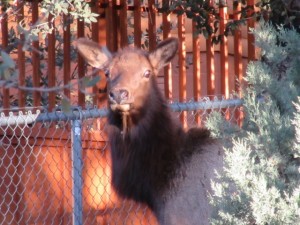 So, what types of characters draw you in? How does a character take form in your imagination? And for writers, does your writing process parallel Tracy's, or do you begin from a very solid moral premise?
More from Tracy next Monday, when we will draw a name from both weeks' comments for a copy of her most recent book, The Sentinels of Andersonville. Thanks for stopping by, and be sure to include your contact information in your comment.