"Fiction is art and art is the triumph over chaos… to celebrate a world that lies spread out around us like a bewildering and stupendous dream."
― John Cheever
Since I've never thought of myself as very organized, it's interesting to ponder writing fiction as triumphing over chaos. But for any of us who has  attempted to control circumstances and people, it makes perfect sense to strive over what T.S. Eliot terms the general mess of imprecision of feeling, Undisciplined squads of emotion.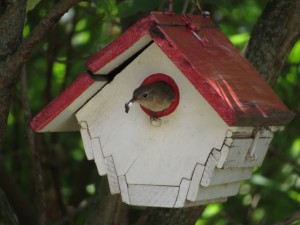 Isn't that what wrens do when they set up housekeeping in a world of predators ready to disrupt their nesting?
Ah, yes. That's what control freaks try to manage–the inner chaos. Of course, our actions spread out to those around us, and we get the sense we're doing well, even if everyone else is chafing at the bit.
Anyway, writing fiction helps this type of personality by giving us a whole set of characters to manage. To bring to life on the page, with all their secrets and foibles, passions and dreams.
I just read about an author hard at work on a sequel to her first novel. This past year, life has given her more than a full platter of challenges, including grief, but she's finding joy in working with her characters.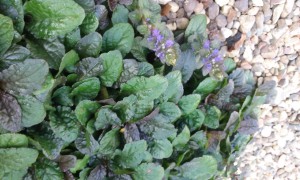 Kind of like gardening…cooperative plants like ajuga grow just about anywhere with relish,
same for Shasta daisies–we can count on them to flourish and multiply with little care,
while others require a gentle hand, lots of water, and shade.
But the act of tending these plants nurtures us. What a gift–glorious July blossoms to delight the eye!
Much like flowers, the gift we receive in focusing on our stories nurtures us, too. What can we say but thanks?