Recently, I met the man who built our house, and he said during the excavation, workers found a Native American matate, or grindstone. I'd been having Abby, the heroine of a novel set here in 1870, watch for the natives–now I have evidence they were really here–nice to spend some time in the setting, as Tracy Groot shared with us last month.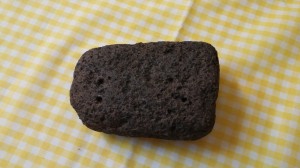 In the past two years, someone already unearthed a pumice pestle, perhaps the one used with that grindstone. Pretty cool, eh?
And here are a few pottery shards found in front of our place. Our friend gathers them when she comes up here, in an area where water washes down.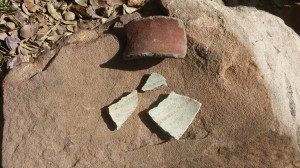 I have yet to discover one, but I'm getting the idea of what to look for, and enjoy the "hunt."
This past couple of weeks  my writing has brought a few bumps in the road: a rough critique of a would-be novel's beginning and word from the editor of my first contracted women's fiction novel: your file's been corrupted. Send me another. Oops.
Well, that's the writing life, I'm thinking. Take the downs with the ups and keep at it. Some day, you'll hold your fiction book in your hand, just as some day, hopefully, I'll find some pottery shards right in our front yard. Yes, this is a picture of what I  peruse in my search.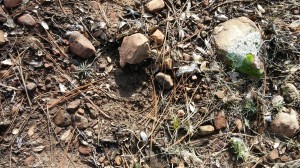 Anybody want to share how you've persevered in your writing life, or in anything else, for that matter? I'd love to hear your stories.