Last week our community held a gathering for people to share their Christmas memories–some ninety-plus year-olds joined us. Can you imagine remembering the Pearl Harbor attack being reported in a radio news flash? 
Here's a photo of my first Christmas. Before Charles Schulz cried the phrase, "Charlie Brown Christmas tree," my brother and I posed beside one. In this 1951 photo, we look pleased and proud of our find along one of the ditches bordering our farm.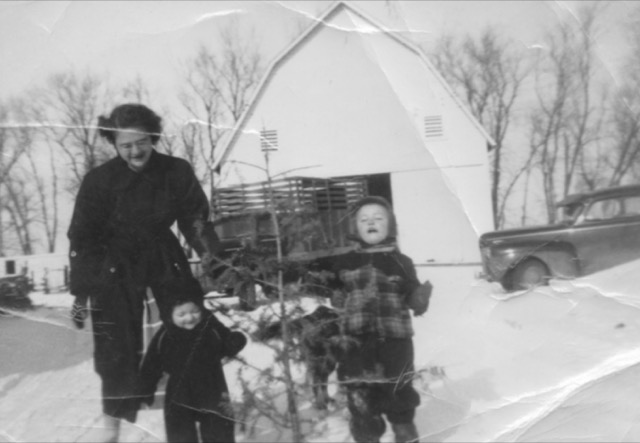 Mom looks happy, too, with the war over and never a hungry moment on the farm, like those she'd survived in her Depression-laced youth.
The war had ended five and a half years earlier, and good times were on the upswing. If you lent yourself to back-breaking farm work, you could make it. If anybody can identify the auto in the background, I'd like to know the year and make. Behind the tree sits Grandpa's green Ford farm truck.
Like most children, my brother and I knew only the present: a loving mother, a hard-working dad, a roof over our heads, food and clothing. No fear for the future, no sense of the past…only this present moment in time.