You can feel the moisture in the air, smell the snow over the mountain. Well, at least I think so–we haven't seen much yet, just some rain and hail squalls a few days ago. But since I'm writing about the pioneers who lived so close to nature, I think I can smell snow? And my joints have been complaining, maybe more than usual.
We'll see, right?
But in the meantime, it's puzzle time on Holly Drive. This one, a vista of the Carpathian Mountains in Romania, reveals vibrant greens, rusts, blues, aquas and up in one corner of the sky, gold and yellow. Small pieces awaiting their places, their unique spots, in the final tableau. And Lance making every effort to get them to where they belong.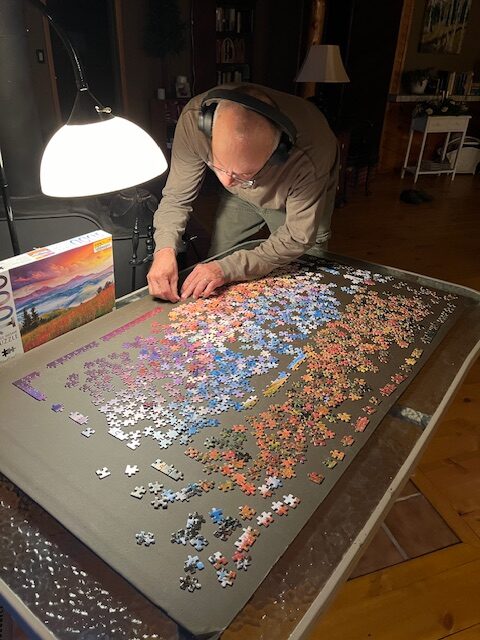 Yesterday I was reading about the great meteorites of 1860 over parts of India and New York State. I suppose native Americans and settlers and other citizens stared in awe at the night sky, wondering about this portent. As the year passed and tensions grew, some attributed prophetic powers to the never-seen-before-show.
A Great War was about to commence…a terrible, senseless war no one wanted. But people simply could not find common ground on the days' issues. I also recently read William Carlos Williams' short story, "The Use of Force." Such an abrupt ending, leaving all the pieces in my lap to deal with.
Seemed odd, when we're so used to authors "tying up all the loose ends." But there you have it. Another way of arranging things.
Williams said about his style, "In my own work it has always sufficed that the object of my attention be presented without further comment. It doesn't declaim or explain; it presents."
Read his classic story here: https://www.classicshorts.com/stories/force.html
What do you think?