Having surgery leads to all kinds of insights. The challenge is in finding the energy to post them! But here are a few for you, introduced by some beauty that came my way from our rural parish friends.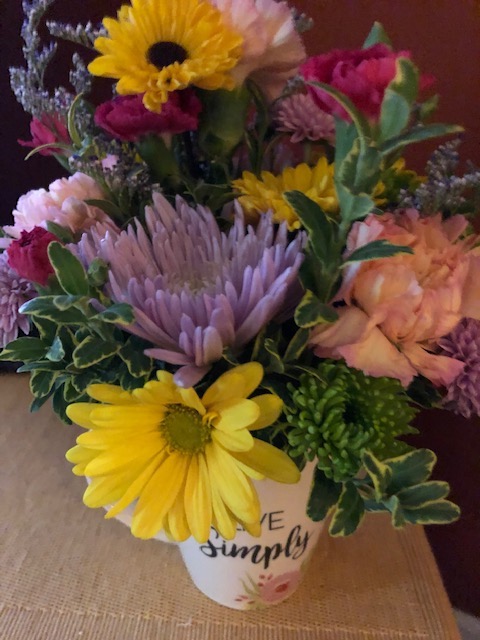 Hospitalization alters your perspective. We've all been reminded lately of the invaluable services and care our health workers provide. Well…seeing this firsthand drives that realization even deeper.
Thanks to everyone at the Mayo Clinic in Rochester, MN who transformed me into a bionic woman. Trustworthy, competent caregivers make all the difference. My husband has continued this kind of thoughtful, proactive interaction here at home–here you see his latest innovation. I can't thank him enough!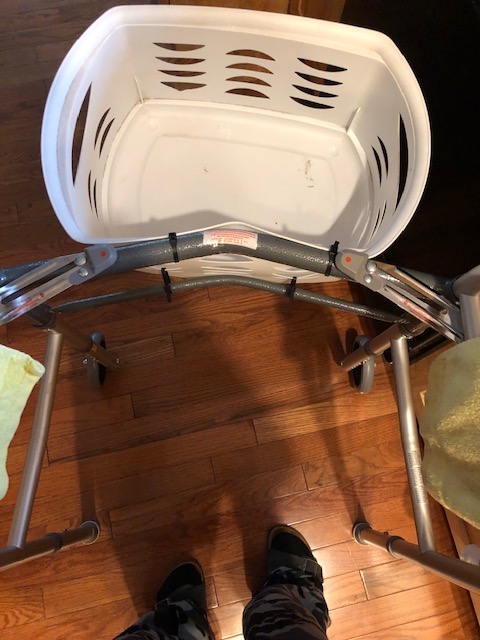 Before surgery, our friend Heidi took extra time to instruct me on shower-taking…I haven't found the courage for that yet, but will soon. She also brought an ingenious sock-putter-onner which works wonders!
Rodding around with my walker adds yet another view of the world. It's a simpler world than when I left, with some new mobility limits. LIVE SIMPLY, my flower container says, and I really have little choice. But it's been freeing to be able to transport my tea cup and other small items to and from the kitchen…one small spark of independence!
It's always good to get a new view of things, don't you think?
Lots of time for reading this past week. Ane Mulligan's IN HIGH COTTON has kept me in the company of some incredibly strong Southern women, and now I'm reading Susan Count's middle-grade fiction,THE FIREFLY WARRIOR'S CLUB. I also was able to share about my WWII characters with several readers in the hospital, an unexpected gift. And of course, fodder for future novels lay all around me!
So many friends and authors I've never met face-to-face (yet) have sent messages of prayers and encouragement. Saying thank you seems such a small token, but it's what I humbly offer.
So here's my view from behind the walker. We truly are not in charge at any point, although we may think we are. But new experiences like this increase awareness of this fact. It's my opportunity to gratefully embrace the divine love that comes my way from so many directions.