I'm so pleased to welcome the winner of the WILLA award, Debra Whiting Alexander. Debra is giving away a print copy of Zetty, a novel that goes deep into loss, deep into the power of friendship, and deep Into joy. Deb is offering one free book to a potential fan who leaves a comment here.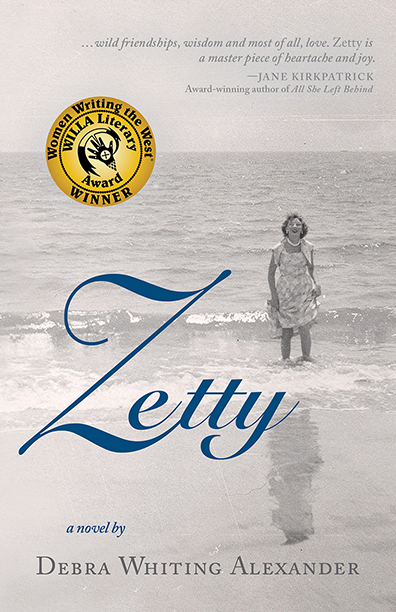 Please tell us a little about yourself.
I was raised on the warm sandy beaches of San Diego and grew up on a steady diet of western movies and musicals. My debut novel, Zetty, takes place in Windansea, California, a little beach community in San Diego. Like the main character in the story, I grew up with a love for the ocean, cowgirls, neighborhood dance shows, pianos, golden retrievers, and art. Friendship and motherhood are the central themes in my life, and in my characters' lives as well. I miss the San Diego coast, but our home in Oregon backs up to lush green fields, horses, stunning sunsets, and hazelnut orchards. Southern California was the inspiration for my first novel, but it's here in the landscapes of the Pacific Northwest that I've found my vision for the next one!
Do you have another job aside from being an author?
I do, and I love my day job as a mental health therapist and clinical supervisor. I hold a Ph.D. in Psychology and am a Licensed Marriage and Child Therapist. I've specialized in post trauma treatment for over 30 years and only recently cut back my hours to allow more time to write and care for my granddaughter.
Tell us about your award-winning, debut novel, Zetty. What inspired you to write this book?
Zetty is the story of a mother lost to a rare form of Schizophrenia, and a daughter's quest to find her. It begins in 1963 when Marjorie McGee suddenly disappears from her home, leaving nine-year-old Zetty motherless and confused. In alternating points of view, the story follows the lives of both mother and daughter as Marjorie's mental illness progresses, and Zetty's hope for her return diminishes. But at seventeen, Zetty wants answers. She finds herself in a circle of unconventional women—opinionated, endearing, courageous and keen-eyed women—who offer Zetty their heart and backbone. As unexpected friendships form, Zetty begins an emotional, psychological and spiritual journey in search of her mother—never imagining the joy and tragedy yet to come, the undeniable power of early childhood bonds, and the secret that will change their lives forever.
Inspired by my grandmother who died in a psychiatric hospital at the age of 41, Zetty blends personal history with my professional background. It was important to me to shine a light on the stigma of mental illness, especially in the 1960's and 70's. My grandmother's life experience was a powerful one; she suffered the consequences of a stigmatizing mental illness in the 1940's. And even though the story isn't about her, she was important inspiration that kept me going as I labored over this book for fourteen years! It was also important to me to write about the challenges of despair. Trauma is a part of life, but not all of it. The idea that joy can coexist alongside tragedy is a message we don't often hear or believe. I wanted Zetty to address this idea and other points of view that empower us. That's what keeps me uplifted and excited about writing.
Tell us about the awards Zetty has received.
Zetty was recently named the 2018 WILLA Literary Award Winner in Contemporary Fiction by the Women Writing the West organization and the 2018 Winner in Women's Fiction and a Finalist in Regional/West Fiction from the National Indie Excellence Awards.
Zetty is your debut novel, although you have written non-fiction. How has this experience been different from when your other books were published?
After years of writing nonfiction books related to post trauma recovery, I finally gave birth to fiction. People ask all the time why I made the switch. The answer is easy: I couldn't wait to make things up! It's fun to lie for a change.
When I was nine, I read the poem, "I heard a Fly buzz—when I died", by Emily Dickinson. That little poem stirred something in me—a desire to capture on paper compelling moments of life in a simple way. So I wrote little books of poetry from then on. But non-fiction was a natural place for me to start with my writing career. At 31, a publisher in New York offered me a contract to write two series of books for children and teens healing from trauma. My nonfiction career took off from there.
One of my most meaningful projects, The Emotional Recovery Resource Kit, was created at the request of my publishers in response to 9/11. Writing it was an honor and deeply satisfying. But I never lost the desire to venture into fiction. Writing Zettywas equally rewarding, but in a different way. I tell my clients all the time how important it is to our brains to engage in activities we feel passionate about and interests that are new and unfamiliar, but meaningful to us. So, for me, writing Zetty was a great aerobics workout for my brain because fiction is so different than non-fiction. I had to learn, study, read, receive critiques, hear a wide range of feedback, take risks, and revise, and revise, and revise.
I relish the opportunity to write about women, friendships, motherhood, mental health, and to do it with spiritual substance —matters of the heart and soul. It's important to me to write about issues I feel inspired by and care deeply about. Women's fiction allows me to do that. I'm hooked!
Debra loves to hear from readers! Contact Info:
www.facebook.com/TheAuthorDebraWhitingAlexander
To learn more about Debra's books:
https://www.amazon.com/author/dwaamazon.17
Part of a book club? Consider asking Debra to join you for a discussion of Zetty!