I'm pleased to introduce Donna Schalter with The Story Behind the Story of Echoes of the Heart. To one commenter, Donna will give the reader's choice of an e-book or a print copy. Thank you so much, Donna.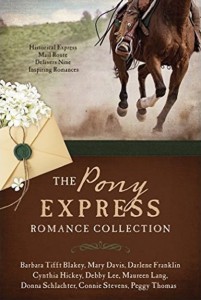 If you've ever wondered if a writer's conference is worth the time, effort, and expense, let me assure you: it is!
My involvement in The Pony Express Romance Collection began several years ago at at an ACFW Conference, where I met up with my dear friend, Mary Davis. I asked her what she was working on, and she said she was putting together a proposal for a Pony Express novella collection. I said, "I'd love to be part of that." She already had the four authors she needed, but if anything changed, she'd contact me.
The next month, hubby and I were planning a long weekend away, and I suggested we do some Pony Express research, "just in case". So we traveled to Julesburg, Colorado and on into Wyoming, following the trail. Along the way, we stopped and talked to folks at visitor information centers, museums, and anywhere that advertised the Pony Express. People still love the romance and allure of the Pony Express, and it seemed as though everybody had a story.
Another month goes by, and Mary emailed to say an author had to drop out because of other commitments, and was I still interested. You bet I was! The initial concept was four stories told in chronological order at the same station, Echo Canyon Utah, with some carryover of characters from one story to the next.
And so began my romance with the Pony Express. We went through several iterations of the proposal, and the format changed to nine authors at different stations with no overlap of characters.
If I hadn't been at that conference, I wouldn't have known about this opportunity. At other conferences, I've made contact with other editors, publishers, and book packagers and been blessed to work with them on various projects. So while classes are important, don't forget the benefits of networking!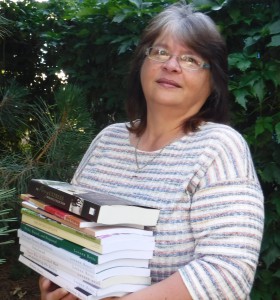 Donna lives in Denver with husband Patrick, her first-line editor and biggest fan. She writes historical suspense under her own name, and contemporary suspense under her alter ego of Leeann Betts. She is a hybrid publisher who has published a number of books under her pen name and under her own name. Her current release, Echoes of the Heart, a 9-in-1 novella collection titled "Pony Express Romance Collection" released April 1. Donna is also a ghostwriter and editor of fiction and non-fiction, and judges in a number of writing contests. Donna loves history and research, and travels extensively for both.
www.HiStoryThruTheAges.wordpress.com
Facebook: www.Facebook.com/DonnaschlachterAuthor
Twitter: www.Twitter.com/DonnaSchlachter
Books: http://amzn.to/2ci5Xqq
Echoes of the Heart: http://amzn.to/2lBaqcW