Since people have already started preparing for the holiday season, I've invited Lynn Watson to share about her Christmas devotional with us today – first of all, here's an enticing trailer to watch:  https://youtu.be/ZT5_uGmptZM
Also, Lynn is giving away one copy of The Essence of Joy, either print or Kindle, to a commenter (Kindle only outside the USA.)
These Christmas readings provide ample food for thought. The reader-friendly style invites us to contemplate many aspects of the nativity story–especially the scents and tastes of the season. Several sections would be perfect for sharing as a group devotional. I was also impressed with how Lynn shares the spotlight with her cover artist. 
Take it away, Lynn…
Fictional character Cinnamah-Brosia was born in the first book in this series, The Essence of Courage. She has transformed Miss Dot's Café (her Gram) into The Coffee Cottage. She and her friends hang out there, invite you in and share their stories of challenge and triumph as each chapter begins.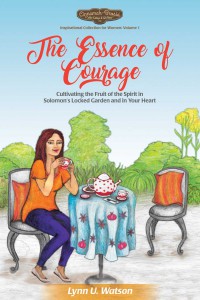 I approached my friend Allisha to create the character. Don't laugh, but 'C-B' began as a super-hero character – a pretty cool one, I might add. But we doubted she would be believable or very well liked. Many drawings later, the cover features her at the patio table warmly inviting readers to enter.
When it came time to plan the next cover, I asked Allisha, "Are you in?" She agreed.
"This cover needs to say Christmas, but not scream it. We need friends in the picture, and The Coffee Cottage. Let's include hints about the devotions and suggest some of the aromas. Above all, this cover needs to connect to the first book."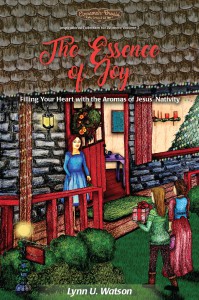 Just imagine the concepts she drew and we discarded before being rewarded with this beautiful cover illustration!
The Essence of Joy features Cinnamah welcoming guests for a Christmas party in the section, "Mint – The Joy of Giving." Cinnamon and citrus on the wreath highlight "Citron – The Joy of Legacy" and "Cinnamon – The Joy of Integrity". The blue framed piece on the cottage wall relates to "Frankincense – The Joy of Forgiveness."
Allisha Mokry earned her BFA from Memphis College of Art. I trusted her imagination, instincts, and artistic gifts to create the characters and the covers. With encouragement to draw and develop as God led, her confidence blossom as I watched. I'm so proud of her and the work she has created. You may viisit Allisha on Facebook /artfulexplorations, and order The Essence of Joy at: https://www.amazon.com/gp/aw/d/069296391X/.
The Essence of Courage:
You may contact Lynn at  www.lynnuwatson.com