February, the "love month"… Our guest this week developed a larger view of love over thirty years ago. Sonia Solomonson shares her experience here. Solomonson, a former religious magazine editor, is a freelance writer/editor and also a life coach who can be found at www.way2growcoaching.com. Perhaps you or someone you know can relate to her story:
*********
I'm never allowed to forget. Every year, newscasters remember the day the Challenger blew up—32 years ago this past January 28. It also marks the day I was in divorce court.
As I think back to the years leading up to that day in court, I remember the mounting difficulties in my marriage. The first years seemed good, until things changed and I began to realize the high price I was paying for tamping down who I was created to be and letting my pastor husband control me and our life. It took me seven years to build up the courage to make a move, seven years of asking that we go to counseling and seven years of his saying "No."
I knew no one who had gone through this, and my shame kept me from talking with family or friends. I prayed fervently for answers. I shed many tears through those years. Finally the fear of staying in the relationship was greater than the fear of leaping out on my own. In addition, I had looked into the future and seen myself as an unhappy, beaten-down and bitter old woman. I didn't much like that picture. I still loved my husband; I just could not live like that anymore.
I'll be honest: It was frightening, difficult and lonely at times. At times I felt like the cardinal in the photo below: I was skating on ice with no solid ground under me. My image was that of being afloat on a huge ocean with only an empty plastic milk jug to hold me up. It wasn't until a few years later that I realized that jug was only a prop—and the ocean in which I was afloat was really God's love holding me up! And I did come out on the other side of the pain—which is why the transformation of caterpillar to cocoon to butterfly is so meaningful to me today.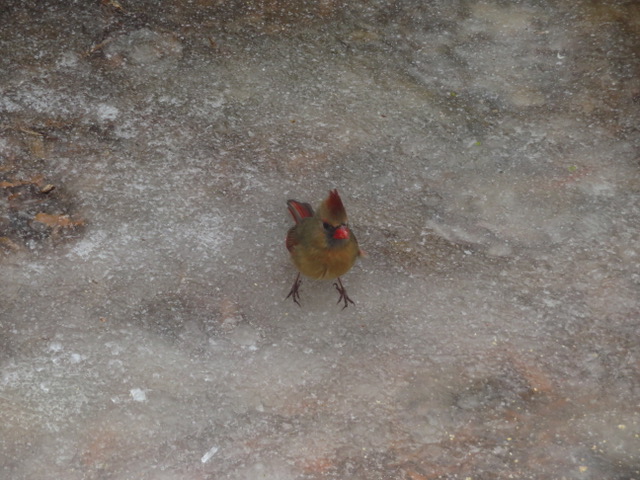 Now I realize things I didn't know then. When I read Jeremiah 29:11, I see that God intends good for us all. God doesn't want us to live in a harmful or diminished situation. "For surely I know the plans I have for you, says the Lord, plans for your welfare and not for harm, to give you a future with hope." God has created each one of us for so much more than what we can imagine. And I wonder if it doesn't hurt God's heart when we let our God-given gifts be squelched and put down? When we don't care for our bodies, our selves and our gifts.
Another verse from Scripture surfaced for me in the post-divorce years, and I realized I'd misunderstood it. In Mark 12:30-31we read, "'…you shall love the Lord your God with all your heart, and with all your soul, and with all your mind, and with all your strength.' The second is this, 'You shall love your neighbor as yourself.' There is no other commandment greater than these." For years I heard and understood that we should first love God, then love our neighbor; and if there were any love left, love ourselves. But read this carefully: "You shall love your neighbor AS [you love] yourself." So, if I don't love myself well, I won't be able to love my neighbor or "the other" in my life. It is God's love that allows us to love ourselves and thus, love the others in our lives. And so I trust God every day to teach me how to love and care for myself—and then share that love with others.
I remember worrying at first that self-love was selfish. We women are so wired for relationship, so the biggest challenge for us is not as much selfishness as it is to learn self-love and self-care. That is not to say we women aren't ever selfish, of course. But most women I meet have a tougher time loving themselves. And so I throw out this challenge to each of you: Live with Mark 12:30-31 and Jeremiah 29:11 and let them settle deeply in your heart. See what difference those verses might make in your life.
Sonia C. Solomonson
February 21, 2018