It's wonderful to welcome back Peggy Blann Phifer, who is offering a free kindle version of her latest release, Whispering Hope, to a commenter. Don't you love the heroine's gloves and glamour on the cover? 
Thanks for having me on your blog, Gail. I'm pleased to be here. You asked me to share some thoughts about my writing, my book, the genre, and what it took to get it written. So, here goes …
Whispering Hope is what I call Historical Romantic Suspense. I'm not sure there actually is such a genre … officially … but it's my story and I'm sticking with it. And yes, it's all three.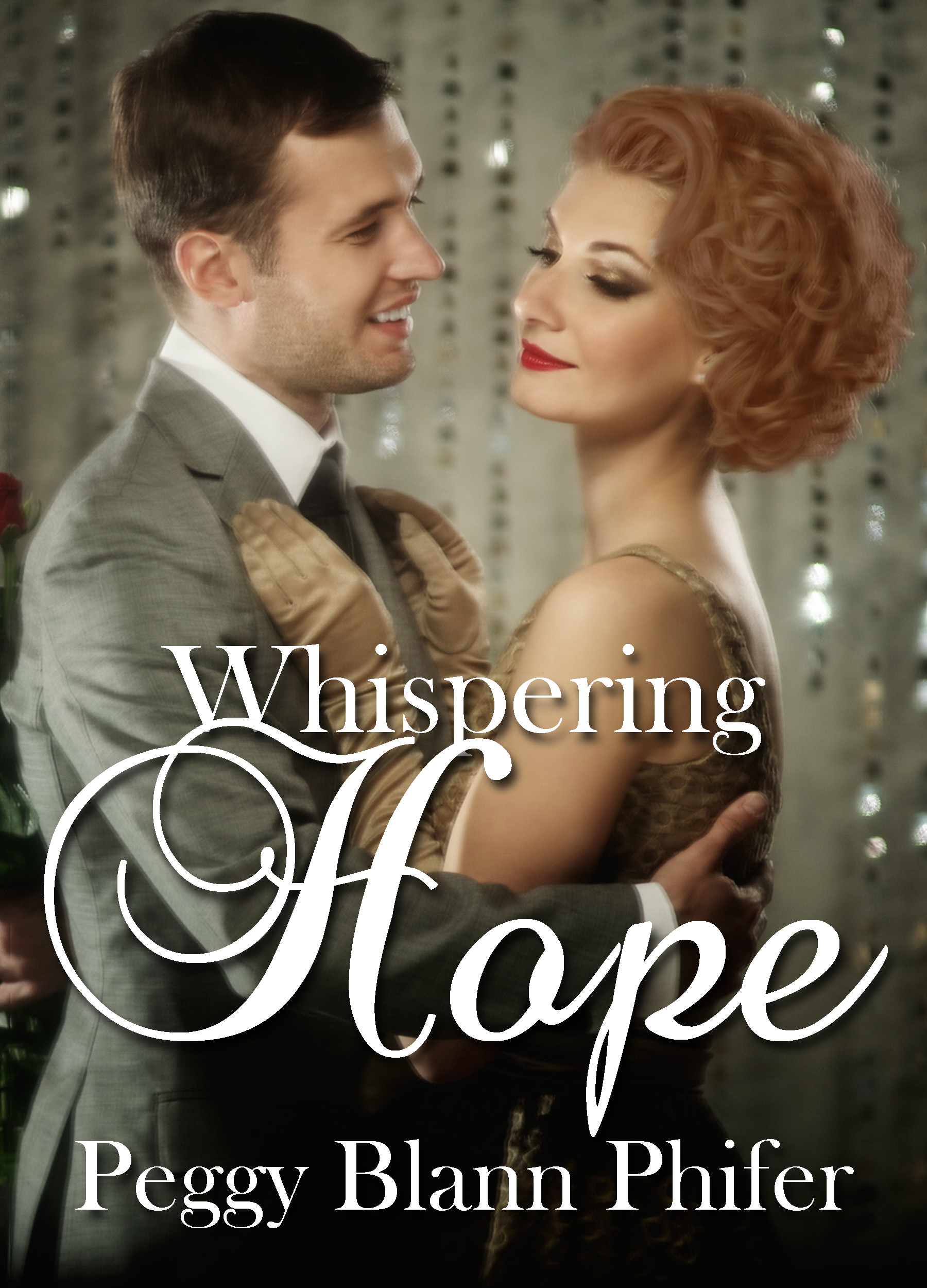 Historical: Yes, the time is 1930, during Prohibition. The opening scenes are set in Chicago, but the rest of the story takes place in northwest Wisconsin, my old stomping grounds, in a fictitious town and county created entirely out of my imagination. It was fun to write, drawing on some old memories and locations I knew back in the day. But mostly challenging. It took a lot of research. I bought books, maps, a PBS video of the era produced by Ken Burns, and LOTS of "Googling." I have at least a ream of paper I printed out during the writing time.
Romance: My lead female protagonist, Virginia "Ginny" Hopewell, Wisconsin country girl, visiting her cousin in Chicago, gets caught in a shooting at a local speakeasy. At the same time and place, was my male protag, Ransom "Rance" Blake, FBI agent for the Chicago Bureau of Prohibition. Their paths cross again after Ginny returns to Wisconsin and Rance is sent up there to apprehend the man responsible for the shooting and to discover how illegal liquor from Canada is getting into Wisconsin and down to Chicago.
Suspense: It's all there. An elusive gangster. Illegal stills. Suspicious guests at the Whispering Hope Resort. Murder. And a kidnapping.
I hope this whets readers' appetites!
Back Cover Copy:
1930 Chicago is no place for a Wisconsin country girl.
Virginia Hopewell visits her cousin in Chicago and gets caught up in a deadly gangster shooting at a speakeasy, barley escaping with her life. After learning of the tragic death of her father, brother, and sister-in-law, Ginny returns to Wisconsin and convinces her mother to reopen the resort her father had closed after losing everything in the stock market crash in 1929.
Ransom Blake, an agent with the Chicago Bureau of Prohibition, had been at the same speakeasy acting on a tip about the shooting. Rance is charged with finding the gangster responsible. He and his team are sent to Wisconsin where the man was reported being seen, and to investigate how illegal liquor from Canada is making its way to Chicago.
With the opening of Whispering Hope Resort, Rance registers as a guest and comes face to face with the lovely redhead he'd briefly encountered at the speakeasy during the shooting.
Bio:
Author Peggy Blann Phifer, a retired executive assistant after twenty-one years in the Electrical Wholesale Industry, lives in the 'boonies' of NW Wisconsin. A late bloomer, Peg didn't start taking writing seriously until age fifty.
Her debut novel, To See the Sun, a contemporary romantic suspense, released in January 2012. A second novel, Somehow, Christmas Will Come, contemporary women's fiction with a touch of romance and mystery, released in November 2014, revised and re-released in late 2015. A new work titled Whispering Hope, an historical romantic suspense, set during the years of Prohibition, released in early May 2018. Her work has also appeared in numerous anthologies over the past five years.
Peg is a member of American Christian Fiction Writers. When she's not writing, Peg enjoys reading, blogging, and sharing her home with her daughter, son-in-law, and a Border Collie mix dog named Rocky.
Social media and buying links
Blog/website: http://whispersinpurple.blogspot.com
Facebook: www.facebook.com/pegphifer
Twitter: www.twitter.com/pegphifer @pegphifer
Pinterest: www.pinterest.com/pegphifer
Google+: http://plus.google.com/+AuthorPeggyBlannPhifer/posts
Goodreads: www.goodreads.com/pbphifer
Email: pbphifer@centurylink.net
Purchase link for Whispering Hope: https://amzn.to/2KURU8x