Catherine Castle visits us today with her story, A Groom For Mama, and she's giving away a free e-book to one commenter. Thanks for joining us, Catherine.
                    My Love is Like a Red, Red Rose
Readers often want to know if authors insert themselves into their books. I've noticed that there are a few things that always seem to slip themselves into mine. Flowers tend to be one of those things. That's probably because I'm a gardener and love flowers.
My newest sweet romantic comedy, A Groom for Mama, is no exception. At one point in the story, Allison, Jack, and Mama visit a rose garden. So I thought it would be fun to show you some pictures of the rose gardens I've visited.
Columbus park of Roses, Columbus Ohio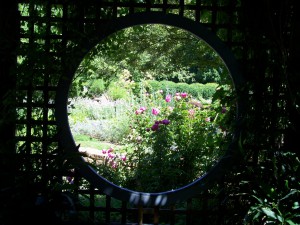 Isn't this bench inviting? This garden has hundreds of rose bushes. The minute you walk into the park you're surrounded by the heavenly scent of roses. I imagined the garden Allison, Jack and Mama visited smelled as heavenly as this one.
Innswood Metro Gardens – My husband took the shot of the roses through a circle opening in a lattice gazebo. I just love the juxtaposition of the dark and the light.
Kingwood Center garden
This as another artistically composed shot from my husband's camera. He was an art student, so naturally he looks at the composition of a photograph.
The Roses at Disney World.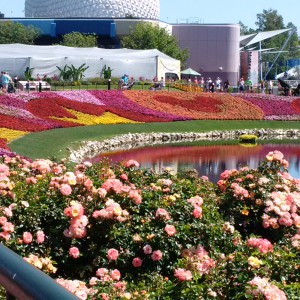 This picture was taken during Disney's Flower and Garden Show. Every year in March-May they display hundreds of beautiful flowers. If you've never been, and you love gardens, you really should try to get there. It's fantastic.
Catherine's garden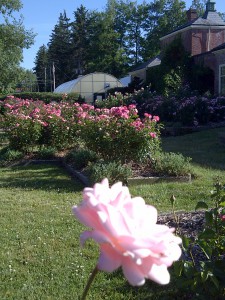 And of course, I couldn't show you the lovely pictures of gardens I've visited without including one of my own award-winning garden. This is the view out of my office window. I planted knockout roses and ribbon grass around the ugly transformer box in the front of my yard. I got tired of looking at the hulking green metal box all the time.
I hope you've enjoyed my little trip through the roses. Now, I hope you'll enjoy this excerpt from A Groom for Mama.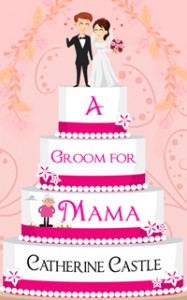 Beverly Walters is dying, and before she goes she has one wish—to find a groom for her daughter. To get the deed done, Mama enlists the dating service of Jack Somerset, Allison's former boyfriend.
 The last thing corporate-climbing Allison wants is a husband. Furious with Mama's meddling, and a bit more interested in Jack than she wants to admit, Allison agrees to the scheme as long as Mama promises to search for a cure for her terminal illness.
 A cross-country trip from Nevada to Ohio ensues, with a string of disastrous dates along the way, as the trio hunts for treatment and A Groom For Mama.
EXCERPT:
 Beverly's pale face broke out in a smile. "Jack!" She took the flowers from him and buried her nose in them. "They smell wonderful." She waved him inside, hugging him as he passed by her.
He leaned over and kissed her on the cheek and then glanced around the foyer.
"She's not here right now."
"I'm just making sure the coast is clear." He followed Beverly into the kitchen, the click of her shoes against the hardwood floor leading the way. The house slippers had disappeared with Allison's arrival, and Beverly had started dressing up more. He was glad to see that. He eased his tall frame into the bar chair in front of the peninsula and set the fruit basket on the counter. "I'm planning to stay as far away from Allison as possible."
"Is that so?" Beverly's voice held a hint of sarcasm. "You've been over here a lot more since she arrived."
"Son-in-law prospects, remember?"
As she retrieved a vase from the cabinet, he busied himself untying the string around the flowers, ducking his very hot, and most likely, red face from her view. She hit closer to the mark than he cared to admit.
"How are you feeling?"
"Okay, for now. Allison's not doing well, though. The doctor visit hit her hard. She's determined to save me, in spite of the odds." Beverly took the flowers from him and dropped them into the vase. "Have you got some men for me?"
He swept the fallen flower leaves off of the counter into the waste can beside the bar. Then he concentrated on flicking imaginary pollen off the granite into his hand.
"I've been thinking, Beverly, are you sure you want to go through with this? Wouldn't you rather spend what time you have left with Allison just being together? This bridegroom business has to be a bone of contention. I hate to see you two in disharmony."
"Jack Somerset. Are you trying to get out of a deal with me? Because if you are—"
"Of course not. It's just that—"
"—you don't want to see her with someone else?"
His head snapped up. "I've had her once already and found her to be a contrary woman."
Beverly grinned. "Me-thinks thou dost protest too much."
No answer to that. Until their breakup they hadn't ever argued. Back then, even when they didn't see eye to eye, they could talk. He took a set of folded papers from his hip pocket and slapped them onto the counter. "Here's the first set of men."
"This one looks okay," Beverly said as she scanned them, "but let's scrap the rest."
He checked her selection. "I think we should let Allison decide. After all, she's the one who'll be saddled with the guy."
Beverly cocked her head and studied him. "What an odd way to put it. She's supposed to fall in love with the man and live happily ever after, you know."
"Supposed to being the operative words."
Want to read more? You can get A Groom for Mama at Amazon.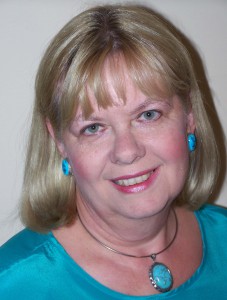 About the Author:
Multi-award-winning author Catherine Castle has been writing all her life. Before beginning her career as a romance writer she worked part-time as a freelance writer. She has over 600 articles and photographs to her credit, under her real name, in the Christian and secular market. Besides writing, Catherine loves traveling with her husband, singing, and attending theatre. In the winter she loves to quilt and has a lot of UFOs (unfinished objects) in her sewing case. In the summer her favorite place to be is in her garden. She's passionate about gardening and even won a "Best Hillside Garden" award from the local gardening club.
Her debut inspiration romantic suspense, The Nun and the Narc, from Soul Mate Publishing was an ACFW Genesis Finalist, a 2014 EPIC finalist, and the winner of the 2014 Beverly Hills Book Award and the 2014 RONE Award. Her most recent release, A Groom for Mama, is a sweet romantic comedy from Soul Mate Publishing. Both books are available on Amazon.
Buy link for A Groom for Mama www.amzn.com/B074SZSGB1
 Catherine's website: https://catherinecastle1.wordpress.com
Catherine's blog: http://catherinecastle1.wordpress.com/blog/
Catherine's Amazon author page: https://www.amazon.com/author/catherinecastle
Catherine's Goodreads page: https://www.goodreads.com/author/show/7085414.Catherine_Castle
Twitter: https://twitter.com/AuthorCCastle   @AuthorCCastle
Facebook: https://facebook.com/catherinecastleauthor
Stitches Thru Time: http://stitchesthrutime.blogspot.com/
SMP authors blog site:   http://smpauthors.wordpress.com/