Welcome to the WhiteFire Publishing Scavenger Hunt! If you've just discovered the hunt, be sure to go back to stop #1 and collect all the clues in order. Once you have them all, you'll have uncovered a secret message. Turn that in at the final stop for a chance to win one of THREE amazing prize packages!
The Hunt begins at Roseanna White's site
Take your time! You have all weekend to complete the Hunt—entries will be counted until Monday June 26—so have fun reading all the posts along the way and getting to know each author
Lots of extra prizes! Many of the authors are featuring unique giveaways as well, for even more chances to win!
Submit your entry for the grand prizes back at Roseanna White's blog.
On an evening flight from Des Moines, Iowa to Colorado Springs, the man in the seat behind me quipped, "We'll be catching up with daylight on this trip." Voila! The perfect title for my memoir.
A few years later, WhiteFire Publishing issued me a contract for this manuscript, a compilation of essays, quotes, and women's stories. The process of nurturing this work to publication taught me so much about life, even though I was a late bloomer with my writing.
I learned that memoir borrows some fiction techniques, such as grounding the reader in each new chapter. And of course, the genre requires imagination.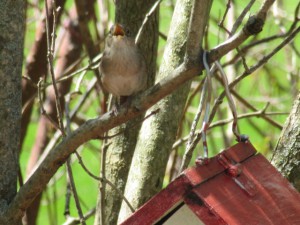 You may be singing your heart out like this little wren in our back yard, but must alert the reader to the whys and wherefores.
Memoir relays one's unique journey, but mine definitely benefitted from editors' objectivity. In the end, the published books delivered to my door one day gave me deep satisfaction. I believe I may have hugged the Fed Ex man.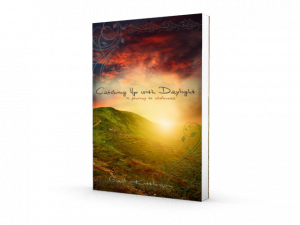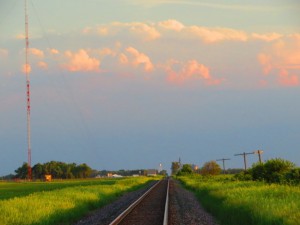 Taking the journey is one thing, but turning your private writing into public writing entirely another, and I'm so grateful WhiteFire gave me the opportunity.
From there, the road has stretched on to writing World War II fiction focused on characters' journeys. Their joys and sorrows become as real to me as my next door neighbor's.
But for me, memoir needed to come first – making meaning of my own experiences.  Eudora Welty wrote, "To imagine yourself inside another person…is what a story writer does in every piece of work; it is his first step, and his last too, I suppose."
Here's the Stop # 7 Scoop:
You can order my book at: http://amazon.com/author/gailkittleson
Clue to Write Down: imagination
Link to Stop # 8, the Next Stop on the Loop: Joy Palmer
Need the full list of stops?
Melody Carlson (hosted)
All finished? Submit Your Entries!
And now, for my own little giveaway! I'm adding a World War II replica flour sack dishtowel to our group giveaway, since that era affected my childhood so much, and therefore plays into Catching Up With Daylight.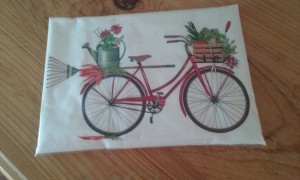 Jot a comment here, perhaps about how memoir has touched you, and leave a LIKE or a smile on my FB author page (if you've already LIKED it) to qualify.